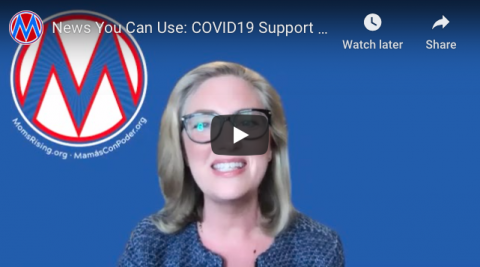 Top #5Actions of the Past Week: May 1, 2020
Greetings! We hope your week has been as good as possible. This is a really difficult time in our nation and world. Thank you for all you're doing to help lift families in this time of crisis. To that end, please see this week's list of most urgent actions below, featuring our top campaigns around paid leave, COVID-19 relief, child care, essential workers, and more. As a reminder we send this "Top #5Actions" list every Friday, to help you catch up and add your voice before the weekend. Now more than ever, we must keep the pressure on leaders to stand up for working people and families.
Thank you for all you do and here's the list =>
1. Act Now: States can't reopen safely without permanent paid leave
BACKGROUND: If governors are going to SAFELY reopen states we need stronger--and permanent!!! -- nationwide paid sick days and paid leave laws in place. Our governors have a direct line to Washington D.C., so let's urge our governors to tell Congress and the President to include stronger--and permanent--nation-wide paid leave and paid sick days in the next COVID-19 recovery package. Congress is starting to work on the next package this week. There is no time to waste! Add your name now. 
2. Tell Congress: We demand more in response to COVID-19
BACKGROUND: MomsRising has joined forces with the National Women's Law Center, Black Women's Roundtable, Planned Parenthood, UltraViolet, NARAL, Women's March and 70 women's organizations from around the country to demand more for women. We are grateful that Congress has passed the Paycheck Protection Program and Health Care Enhancement Act. But this is just the beginning of the pandemic response the country needs. America's moms know this isn't nearly enough, and are looking to Congress to immediately work on a new package, which must fill gaps in the response to date and address the devastating racial disparity in COVID-19 morbidity. We need health equity interventions, including collecting health outcomes data by race and ensuring that all new policies address these disparities. It's women who bear the burden of this crisis. Sign on NOW to our list of demands for women.
3. RESOURCE: How to Apply for COVID-19 Assistance
Click Here to Get Your Questions Answered
BACKGROUND: Are you looking for information on how to access and apply for the new COVID-19 programs passed by Congress? We've got you covered! Last week, MomsRising was joined by experts from the Center for Law and Social Policy (CLASP), National Employment Law Project (NELP), Food Research and Action Council (FRAC), and National Immigration Law Center (NILC), for a webinar to discuss the nuts and bolts about what you need to know to apply for assistance during the COVID-19 pandemic. We discussed the new COVID-19 programs just passed by Congress, including paid sick days/paid family leave, unemployment insurance, nutrition assistance, and the impacts of these programs on immigrant families.
You can now find the full video in English, the slides from our amazing presenters, the answers to some of your questions, and helpful resources on this special post on the MomsRising blog. Spanish language version coming soon! 
4. Tell Congress to Act to Save Child Care 
BACKGROUND: A new report from the National Women's Law Center and CLASP found that it will cost an estimated $9.6 billion each month to stabilize our child care system and provide emergency care to children of essential workers during the pandemic. Child care is essential to support families in getting back to work, but many providers are in danger of closing. The size and scope of the impact of this public health crisis on the child care sector is profound and growing. Urge Congress to provide at least $50 billion in child care funding to ensure the stability of our child care system so parents and caregivers have child care to return to when this crisis is over! Child care could be gone if Congress doesn't #FundChildCare NOW!
5. Demand an Essential Workers Bill of Rights
BACKGROUND: The fabrics of our communities are being held together by the labor of essential workers. Health care workers, childcare workers, domestic workers, social workers, grocery workers, and farm workers are keeping us healthy, taking care of our families, and putting food on our tables. Yet, many workers aren't being given protective equipment or supplies, can't speak out about workplace safety without risking their jobs and healthcare, and are bringing home poverty-level wages. Join us in demanding that Congress include an Essential Workers Bill of Rights in the next COVID-19 response package.
Thanks for all you do!   
- Karen, Kristin, Anita, Ruth, Maggie, Casey, Gloria, Nina, and the rest of the MomsRising / MamásConPoder Team