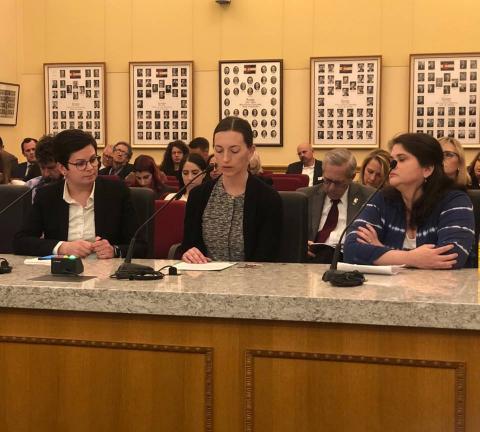 Top #5Actions of the Past Week: March 23, 2019
Happy Saturday! We're sharing our latest list of top actions from the past week for your social justice-seeking pleasure. This week we're talking about gun safety, tax reform, maternal justice, and more! As always your voice is powerful and urgently needed. Please take a moment to sign and share these top #5Actions this weekend. Thank you! =>
1. Your Help Needed: Urge the U.S. Senate to Vote on Universal Background Checks on Gun Sales! 
BACKGROUND: The U.S. House has passed universal background checks on gun sales. Now it's the Senate's turn. But Senate Majority Leader Mitch McConnell won't bring the bill to a floor vote unless he is forced to. Tell your U.S. Senators to co-sponsor the universal background checks bill in the Senate (S. 42) -- the more co-sponsors, the more pressure on Senator McConnell to bring the bill to a floor vote. With public support for universal background checks as high as 97% in recent polls, every member of Congress should be supporting this commonsense measure to reduce gun violence! Tell your U.S. Senators to co-sponsor the universal background checks bill in the Senate (S. 42) -- the more co-sponsors, the more pressure on Senate McConnell to bring the bill to a floor vote.



2. Say NO to the Trump Budget!
BACKGROUND: President Trump released his FY2020 budget last week and no surprises here— he slashed funding for programs that boost our families and kids in order to pay for his wasteful wall and tax cuts to the 1% and Wall Street. The U.S. Congress needs to know we're paying attention to how they're using our hard earned tax dollars. ***SIGN OUR LETTER to Congress and tell them to reject the Trump Budget and instead make investments that support our families and create a brighter future for our children!

3. Tell Congress: Repeal the Trump Tax Scam
BACKGROUND: It's tax time and we are getting an angry earful from moms around the country about Trump's backwards tax scam -- and need your help letting Congress know what's going on in the real lives of families in our nation. Simply put, our families are getting screwed by the Trump Tax Plan (aka the Tax Cuts and Jobs Act, aka the Trump Tax Scam). ***TAKE ACTION NOW! Sign our letter telling the U.S. Congress to repeal the Trump Tax Scam! 

4. Urge Congress to Advance Paid Sick Days with the Healthy Families Act
BACKGROUND: At least 34 million workers, including HALF of all working moms can't earn a single paid sick day to stay home when they come down with the flu – or need to care for a sick child. This is bad for public health, our pocketbooks, and workplaces. That's why we're elated that just last week, U.S. Senator Murray and Representative DeLauro reintroduced the Healthy Families Act — national paid sick days legislation — which is a true win-win-win for working families, businesses, people, and the economy!

5. Join the Next #MaternalJustice Chat on Supporting Doulas and Improving Maternal Mortality in our States: Monday 3/25, 8-9pm ET
BACKGROUND: Join @MomsRising, @Mamasconpoder w/ special guest host New Jersey First Lady Tammy Murphy and guests Ancient Song Doula Services, Bay State Birth Coalition, DONA International, Effie's Grace, Every Mother Counts, Maternity Care Coalition of Philadelphia, Doula and Childbirth Educator Jill Wodnick, HealthConnect One, Massachusetts State Rep. Lindsay Sabadosa and Massachusetts State Rep. Liz Miranda this Monday 3/25 8-9pm ET for a #MaternalJustice chat on Twitter discussing Supporting Doula Care in our States.




INSPIRATION OF THE WEEK!
Check out these exciting photos of MomsRising on the ground across the country! Including our CapitolMOMs Appreciation Dinner for supervolunteers in the DC Metro area, and MomsRising staff and members testifying in support of Colorado SB19-188, the CO FAMLI Act, which will ensure all CO workers have access to paid family and medical leave. Our Pennsylvania members also sent over 350 messages of support to local mosques, and gathered at a rally against hate in Harrisburg last Tuesday.