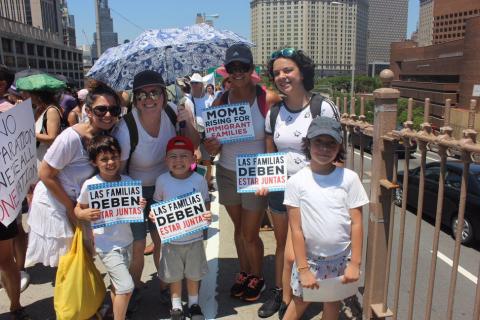 Top #5Actions of the Past Week: July 6, 2018
We are SO INSPIRED by the hundreds of thousands (yes! HUNDREDS OF THOUSANDS) of people who rallied last weekend all over the country in support of immigrant children and families! Your voices are making a difference! We have already defeated two very bad immigration bills in the last few weeks because Congress heard the outraged voices of people like you!
This week we're continuing to speak out about immigration, and demanding Wells Fargo stop financing private prison corporations that are profiting off the pain and separation of families. We're also sharing important actions around gun safety and early learning.  
As always, please read, share, and flex those parent powers before enjoying your weekend. Thank you for all you do!  
1. Tell Wells Fargo - Stop Financing Pain For Corporate Gain! 
BACKGROUND: Let's use our power as consumers to cut off the corporate money behind Trump's unconscionable immigration policies! Private prison companies are not only making huge profits from the incarceration and detention of immigrants, they are also a huge political force in lobbying for the legislation and policies that criminalize immigrants and communities of color in the U.S. But private prisons are not the only ones making money here. Two of the private prison industry leaders, CoreCivic and GEO Group, depend on debt financing from Wells Fargo and other banks to conduct their day-to-day business operations, finance new facilities, and acquire smaller companies. This is a big deal. An analysis of U.S. Securities and Exchange Commission (SEC) filings over the past 10 years, shows that Wells Fargo has played a leading role in financing these debts. As consumers, we have the power to stop this!  *Join us to tell Wells Fargo to STOP financing CoreCivic and GEO Group, private prison corporations that are profiting off the pain and separation of families. 
2. Stop the Opening of New Floodgates for Gun Sales! 
BACKGROUND: The NRA and gun manufacturers want guns everywhere, for everyone, not just here in the United States, but around the world. They are pushing hard for a rule change that would move the handling of export licenses of semiautomatic assault weapons and other powerful firearms from the U.S. State Department (focused on safeguarding our nation) to the U.S. Commerce Department (focused on promoting American business). This transfer of authority would open new floodgates for arms sales internationally, with serious implications for our national security. *Submit a comment now to the State Department and the Commerce Department through the link above. You can write in something like: "I oppose this rule change that would switch the regulations of firearms export from the U.S. State Department to the U.S. Commerce Department." The public comment period for this rule change ends on July 9.
3. Speak Out: Imprisoning Kids With Parents is Still Imprisoning Kids!
BACKGROUND: President Trump's June 20th Executive Action did not end the zero tolerance policy, and did not stop the continued detention of children--rather it allows for the detention of children with their parents, while also speeding up the process for deporting immigrant families applying for asylum. It is well-documented that family incarceration has serious negative consequences for the mental and physical health of children and families. Research has consistently shown that even a short amount of time in detention is harmful for children, compounding on trauma they have already experienced in their home country and on their journey. Children deserve to be with their families outside of cages and they deserve to have their rights protected! Get the latest information on how to stop family separation and detention on the MomsRising blog. 
4. Tell Congress: Families Need Affordable, High-Quality Child Care for All!
BACKGROUND: This week the New York Times released a new poll that is absolutely no surprise to us--one of the top reasons young adults aren't having children is the high cost of childcare. This is NOT good. The lack of steady population growth can negatively impact our economy with a declining workforce. Thankfully, a real solution to the childcare crisis is already here! The Child Care for Working Families Act if passed would help comprehensively address the struggles our families are facing every day to find high-quality, affordable childcare. Urge your representatives in Washington, D.C. to co-sponsor and support the Child Care for Working Families Act to expand access to affordable, high-quality early learning for all our children!
5. Share your #FamiliesBelongTogether Photo 
We are so awed and inspired by the amazing mobilizations against family separation and detention that took place across the country this past week. And we'd love to see your photos! Please take a moment to share your #FamiliesBelongTogether snapshots on social media (using that hashtag), and we'll be sure to give them some love! And check out photos on our Facebook page from
events across the country
. THANK YOU for helping us make some noise that cannot be ignored!  
Thank you for all you do, and #KeepMarching!