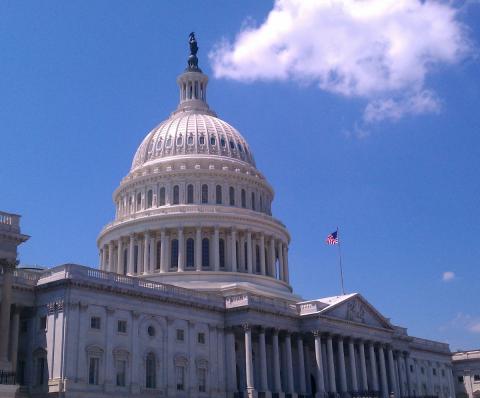 Top #5Actions of the Past Week: January 5, 2019
Happy New Year! We hope you had some time to relax and rejuvenate over the past weeks. Before we jump right into our first list of top actions of 2019, let's pause for a moment to celebrate our powerful newly sworn-in 116th Congress, the most diverse in history. Among the firsts and mosts: the most moms EVER, the most women EVER, the first two Native Americans in Congress, the first two Muslim women in Congress, the most Asian American and Pacific Islander representatives EVER, more new members in the Congressional Hispanic and Black Caucuses, a record number of LGBTQ people serving in Congress, and so much more. This is all due to the tremendous voting power of people like us. THANK YOU! WE DID IT!
We're hitting the ground running in 2019, with urgent actions around protecting our democracy, immigration, kids' privacy, and demanding clemency for Cyntoia Brown. There's still time to get your year-end donation to MomsRising matched, too! Scroll down for the link.
Thank you, and here's the list! -> 
1. Tell Your U.S. Representative to Make Fixing our Democracy a Priority in 2019! 
BACKGROUND: Who we elect has an impact on our lives, our community, and our country. So you know what's next on our to do list: fixing our democracy to make sure that every vote counts in future elections! Thankfully, in response to the appalling levels of voter suppression we saw in the last elections, the newly sworn-in U.S. House is introducing a sweeping democracy protection package as one of their first actions. Add your name to our petition to ask your U.S. Representative to make fixing our democracy a priority in 2019!
2. Urgent: Demand Clemency for Cyntoia Brown
BACKGROUND: Cyntoia Brown is a girl who our justice system failed. A sex trafficking victim who after days of being abused and drugged by her captors, was sold to a 43 year-old armed child predator. She feared for her life. She defended her life. Cyntoia Brown has been locked away in prison since 2004 and has been fighting for her freedom ever since. Join us to let Gov. Bill Haslam know that we want Clemency for Cyntoia Brown NOW! 
3. Send a QUICK Letter to STOP Funding For Family Separation
BACKGROUND: Even as hundreds of children remain terrified and alone in detention centers, the Trump administration is escalating its family detention plans and asking for billions of dollars to finance the same agencies that have tear gassed and incarcerated mothers and children. Join us today in writing a Letter to the Editor to tell members of Congress that it's past time to stop wasting taxpayer dollars on the harmful immigration enforcement system.
4. Tell Google: Kids' apps should be for kids, not advertisers!
BACKGROUND: Apps for kids shouldn't serve deceptive ads, collect personal data, or trick children into making in-app purchases – but Google recommends a slew of "family-friendly" apps that do just that! Join us to tell Google that parents should be able to trust that anything recommended "for children" is actually safe for children. By adopting CCFC's Kids' App Store Standards – simple rules that require a human review of each app and ban in-app purchases, unfair advertising, and illegal data collection – Google can make parents' lives easier, and kids' experiences safer. 
5. There's Still Time to Get Your Year-End Donation Matched!!  
BACKGROUND: As we head into 2019, we're facing some of the greatest challenges of our movement — protecting health care, reducing gun violence, fighting for immigrant families' rights, shining a bright spotlight on the maternal mortality crisis, and so much more. To win for moms and families, we must get stronger. Can you help? Please help us hit the ground running in 2019 with the most generous contribution you can — and your gift will be MATCHED! Thank you. Your gift means so much to us, to our movement, and to all the people who benefit from your generosity.
Thank you for all you do!