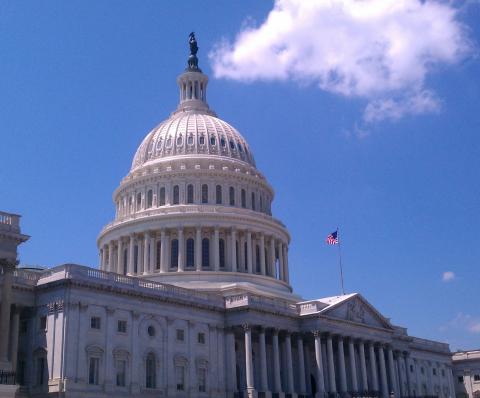 Top #5Actions of the Past Week: January 11, 2018
Happy Friday! We're already up to full speed in 2019, and we need all hands on deck to speak out about the government shutdown, as well as priorities for the new Congress. And we're celebrating a big victory this week too! Scroll down to take action and find out more. As always, THANK YOU for all you do, and PLEASE SHARE this important list with friends and family. 
On to the top #5Actions of the past week! => 
1. Tell Congress: End the Government Shutdown
BACKGROUND: Some 800,000 people in the federal workforce are impacted by the Trump shutdown, including low-wage workers. That does not include contractors -- janitors, food service workers, security guards and others -- who have lost their income and will not get back pay when the government reopens, but still need to find ways to pay for childcare, housing, food, and medicine, and in other ways support their families. Sign on to tell Congress that the salaries of 800,000 workers should not be held hostage for Trump's tantrum over a wasteful and unnecessary border wall!
BONUS: Send a letter to your local paper about the government shutdown (we make it easy - just click to get started!). 
2. MomsRising + Women's March 2019!
BACKGROUND: The stakes for our nation are too high to be silent right now. One thing we know through our agreements, and even through our disagreements, is that our voices are urgently needed to stand up for the rights of every woman — and against sexism, racism, xenophobia, anti-semitism, ableism, homophobia, transphobia, Islamophobia, and all forms of discrimination that are negatively impacting our communities. Together, our #WomensWave will keep growing and letting the Trump administration know that diverse women will continue to be a wall of power against his destructive agenda! The Women's March in January 2019 is an important opportunity to demonstrate our power and unity, and, critically, to continue to build momentum to 2020 and beyond. When we return to the streets of Washington, D.C. and cities around the world, we arrive with an agenda on behalf of all women, families, and communities. ARE YOU IN?
3. Urge Congress: Pass universal background checks! 
BACKGROUND: In November 2018, dozens of candidates ran on gun safety and won, changing the balance of power in Washington, D.C., and promising that gun safety would be a top priority for the 116th Congress. Less than a week after being sworn into office, the new leadership delivered. Congress has just introduced bipartisan legislation to strengthen background checks on all gun sales. It's now up to us to help push it forward. In the U.S. House of Representatives, five Democrats and five Republicans introduced the Bipartisan Background Checks Act of 2019 (H.R. 8) in honor of former Congresswoman Gabrielle Giffords on the 8th anniversary of the Tucson shooting that left 19 people dead or injured, including Giffords. In the U.S. Senate, Senator Chris Murphy (D-CT) introduced the companion legislation, The Background Check Expansion Act. Join us to tell Congress that moms and families want universal background checks NOW to keep our kids and communities safe!
4. Tell Your U.S. Representative to Make Fixing our Democracy a Priority in 2019! 
BACKGROUND: Who we elect has an impact on our lives, our community, and our country. So you know what's next on our to do list: fixing our democracy to make sure that every vote counts in future elections! Thankfully, in response to the appalling levels of voter suppression we saw in the last elections, the newly sworn-in U.S. House is introducing a sweeping democracy protection package as one of their first actions. Add your name to our petition to ask your U.S. Representative to make fixing our democracy a priority in 2019!
5. Send a Message to Google: Kids' apps should be for kids, not advertisers!
BACKGROUND: Apps for kids shouldn't serve deceptive ads, collect personal data, or trick children into making in-app purchases – but Google recommends a slew of "family-friendly" apps that do just that! Join us to tell Google that parents should be able to trust that anything recommended "for children" is actually safe for children. By adopting CCFC's Kids' App Store Standards – simple rules that require a human review of each app and ban in-app purchases, unfair advertising, and illegal data collection – Google can make parents' lives easier, and kids' experiences safer. 
WE DID IT! Cyntoia Brown Granted Clemency!
Thanks to pressure from thousands of people like you, Tennessee Governor Haslam granted Cyntoia Brown clemency this week. Cyntoia Brown was only 16 years old when she was sentenced to life in prison for killing an armed child predator. She is a victim of sex trafficking who fought for her life. Thank you to all who spoke out for Cyntoia! You were heard. 
Thank you for all you do!