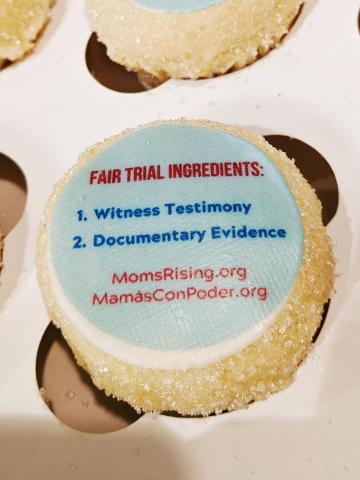 Top #5Actions of the Past Week: Jan 24, 2020
What a week. Have you been glued to the impeachment trial? Historic. Also last week: the Women's March in DC, and at hundreds of locations around the country. Also historic. We are making history, friends. That's why every action you take is so critical. And sharing actions with family and friends multiplies your impact. If there were ever a time to speak up and stay loud this is IT!
Without further ado, here's the list of top actions from the past week. Be sure to scroll down for some exciting updates on our big impeachment cupcake delivery to Congress yesterday, too! -->
1. SIGN OUR PETITION to protect people with disabilities!
BACKGROUND: President Trump is proposing changes to disability insurance (SSDI and SSI) that would impact an estimated 2.6 million people with disabilities, many of whom are children! Every child, no matter whether they have serious health conditions or disabilities, should be able to pursue their dreams. We'll be submitting our official comment on Trump's proposed federal rule change on disability insurance next week and we want to make sure your signature is included. ***SPEAK OUT NOW to protect our children by signing our letter saying "NO!" to Trump's most recent attack on people with disabilities.
2. Join our January 2020 #KeepMarching Virtual Meeting
BACKGROUND: 2020 is going to be huge. To help get everyone's heads in the right space for the work ahead, we've invited leaders on the front lines of fighting for change to share their expertise on voter engagement, workplace justice, and gun control. Find out how to win in the 2020 elections on voter engagement and turnout; how positive change is really truly happening on national paid family leave; and how Virginia become ground zero for gun extremists and white supremacists and what we can do about it. These KeepMarching meetings is where you get to learn, think, and get your questions answered by experts as you make your own plans to take action!
3. Tell Congress: The Child Care Crisis is Squeezing Families Too Tight!
BACKGROUND: A study released by Freddie Mac just last month found that child care costs have grown by almost 50% in the last 25 years. Costs are equaling about half of the national medium mortgage payment (you read that right - MORTGAGE PAYMENTS!) and the study argues that for millennial families, it's a bigger barrier to buying a home than student loan debt! With news like this, it's no surprise that child care took center stage in the last presidential debate. But families need more than talk. We are experiencing a child care crisis and we need big solutions that work for kids, families, early childhood professionals, and our economy. Thankfully, that solution is already here. The Child Care for Working Families Act provides a comprehensive solution that would expand access to affordable, high-quality childcare and pre-K for families while improving compensation and training for the childcare workforce. Tell your members of Congress to stand up for working families and co-sponsor and support the Child Care for Working Families Act today!
4. Seven Shot at McDonald's in Seattle, Washington: #BusinessMustAct for Gun Safety!
BACKGROUND: Tell large American companies that it's now time for them to take responsibility for the gun safety of their workers, customers, and communities, and do everything they can to keep us safe from the estimated 393 million firearms in civilian hands! Add your name! 
5. Demand Expansion of Medicaid To Save Pregnant and Postpartum People!
BACKGROUND: Maternal deaths and serious complications during pregnancy and childbirth have been rising in the United States — particularly for women of color and especially for Black women. Expanding Medicaid can help address this crisis by playing a critical role in ensuring continuous health insurance coverage, which plays a vital role in keeping women healthy during and after pregnancy. Post delivery — the first 100 days after birth, often referred to as the fourth trimester — is an especially critical time for women to have access to health care because it is when most complications occur. Unfortunately, many women lack consistent insurance coverage. Medicaid eligibility levels for pregnant women vary across states and coverage ends 60 days after birth, putting the lives and health of many new moms in jeopardy. Sign on now to tell your members of Congress to support the Helping Medicaid Offer Maternity Services Act of 2019 (H.R.4996)!
BONUS Inspiration: Delivering Impeachment Cupcakes and tens of thousands of your signatures to Capitol Hill on Thursday!   
THANK YOU to all who added their name to our call for the Senate to support a full and fair impeachment trial. We made a big splash on the Hill yesterday delivering your message along with some clever sweet treats. Check out the photos ->
Thanks for all you do!