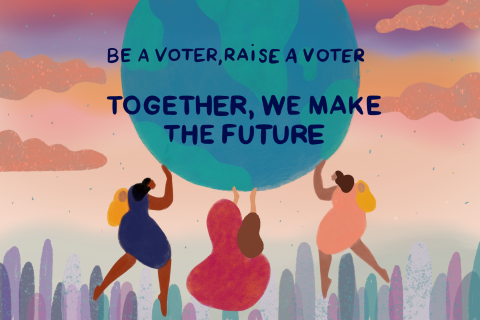 Top #5Actions of the Past Week: Friday, November 4, 2022
We love election season! Voting is our favorite! We're excited about voting because we know that each singular vote has an impact – and we know that moms, especially, must make themselves heard on Election Day. We also know that together, we are a powerful voting force - particularly in midterm elections when overall voter turnout is low. So it's time to make a plan to vote on (or before) November 8th – and to help get out the vote.
Like any other activity on the family calendar, we need to make a plan to vote to make this Election Day outing go as smoothly as possible. So, to make voting fun, we've even provided some fun activities to engage and entertain the future voters you bring along with you to vote. (Unfortunately, the snacks and juice boxes will be up to you!).
Thank you for voting and for modeling the importance of voting!
-- Selina, Kristin, Nate, Nina, Felicia, and the rest of the MomsRising.org & MamásConPoder Team
Did you vote yet?
Did you know that it turns out that voting is contagious - in a good way! Research shows seeing that other people voted helps increase the number of voters. So the question of the hour is: Did you vote yet? Plus, letting us know if you've already voted helps us shape our GOTV plans as we work to inspire other voters.
Take a quick second to let us know if you've voted yet or are planning to vote soon!
Double Check Your Voting Place!
Did you know there are many reasons to double check your voting location ahead of election day? In some states, voting laws have changed since you last voted. Maybe you moved across town, or your address was redistricted following the 2020 census. Or maybe your usual location just isn't available this year due to construction. Regardless, you don't need a reason - be sure to check your voting information including any requirements, the ballot measures and voting location BEFORE election day so that you are prepared!
Make a plan to be at the right place at the right time on Election Day!
Make your Mark!
Every election is a bright new chance for our country! We can make the future we want for our kids and our families. Put your mark on the map to show others that you're voting. This will inspire others across the country to make it to the polls on or before November 8th!
Share where you voted or will be voting and inspire others to vote!
Be a voter, raise a voter!
Do you have tips for voting with kids? Please share them!
Yes, you can BE a voter and RAISE a voter, and… have fun all at the same time! At MomsRising we love to get kids excited about voting and to show them they can be involved in elections even if they aren't old enough yet to vote. Together, we can inspire a new generation of community leaders who encourage their friends and neighbors to make their voices heard at the ballot box.
*And if you need ideas for fun activities to do with kids while you vote, check out this list of ours here.
Please share your tips for voting with kids. We'll compile them and share them with other parents to help make voting fun for everyone!
Interested in sending voter postcards?
We are THRILLED to have sent out so many postcards reminding moms to vote in the 2022 elections. If you missed out this time or want to make sure you don't miss out next time, make sure to sign up now to receive advance notification about future postcard projects. We can't wait for you to join our postcard writing campaign!
Sign up now to be the first to find out about future postcard campaigns!
P.S.– Did you know MamásConPoder has voting resources available in Spanish? https://www.latinasvotan.org