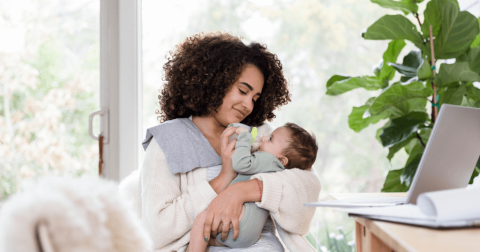 Top #5Actions of the Past Week: Friday, May 13, 2022
We started the week energized by the hundreds of powerful stories you shared with us during the first ever MOMibuster! Thank you!! During the MOMibuster more than 98,000 views happened! Thank you also for tuning in! We hope you were able to sit back and be inspired by how each of our care stories add up to show that none of us are alone, that we aren't in a epidemic of personal failures, and that we have national structural issues that we can solve together.
Since then, we harnessed that energy and are building momentum as we continue to fight for policies that families need the most, including: Reproductive rights, childcare and Pre-K, home- and community-based services, maternal health equity, access to formula, fair treatment of all immigrant families, and more.
Top of our mind this week is that the failure of the Women's Health Protection Act (WHPA) in the Senate has only strengthened our resolve to protect reproductive rights. The combination of the need to lower family costs and address formula shortages nationwide make it all the more clear that sound economic and health policies are paramount. It's also clear that families seeking safety within our borders should not be faced with more hurdles than they already have in their journey.
This Friday the 13th, we refuse to be spooked into backing down. Here are a few simple actions to show Congress that we won't accept less than we deserve.
-- Selina, Kristin, Elyssa, Diarra, Claudia, and the rest of the MomsRising / MamásConPoder Team
Has your family been affected by the formula shortage?
It's being reported that nearly 40% of popular baby formula brands, including Similac, may be sold out at retailers across the country. Already suffering supply chain issues, the recent recall has resulted in an infant feeding crisis. Hundreds of thousands of families across the country are struggling to find formula to feed their babies. They are driving hours away, calling dozens of stores and enlisting the help of friends and family in their search. Share your story so we can let Congress know the real impact the negligence that led to this recall has had, and ensure that formula companies are doing their due diligence from now on.
Share your formula shortage story with us.
Your gift will help resource our movement towards reproductive justice and ensure accessible, affordable abortion care for generations to come. Please donate today!
This is critical to mothers: Six in ten women who have abortions are already mothers, with studies showing many are choosing not to have another child to protect the well-being of their existing family; moms want abortion care to be accessible to all who need it. Our elected officials and appointed judges need to understand that abortion is essential health care and respect people's dignity, autonomy and rights. We need support through donations for the next phases of our fight. Are you ready?
The outcome of Wednesday's #WHPA vote DOES NOT reflect the will of the people. We'll keep fighting for abortion access until Congress ensures all people can access the vital health care they need, including abortion. Will you support us?
Record a video about why access to abortion care is important. (Less than 60 seconds)
Say it with us: #BansOffOurBodies! Every single person should be able to make their own decisions about their health and their bodies — including whether to get an abortion, in consultation with their loved ones and health care providers. We implore you to join our movement. We want you to be a part of the action in every single way possible! Make your unique voice be heard: Share your story and we'll use it to pressure federal and state elected leaders to act now on reproductive rights! This is about obtaining and maintaining medical freedom and the right to make our own choices.
We will gather our voices and pressure federal and state elected leaders to act now!
How is your family impacted by rising costs?
Inflation is costing the average U.S. household an additional $296 per month. The cost of groceries, gas, childcare, formula, and everything in between is going up. **We want to hear from you about how you and your family are dealing with the rising cost of groceries, gas, childcare, and other goods and services. Share your story with MomsRising so we can understand what's going on with the budgets and pocketbooks of families around the country. Your stories matter! It helps us propose family-first policies and paint a picture for elected leaders and the media of what families are going through. (Don't worry—you can submit your story anonymously as well).
How are you and your family dealing with the rising costs? We want to hear from YOU!
USE YOUR VOICE! Write a letter to the editor, let's end Title 42 once and for all!
For two years our nation has blocked vulnerable asylum seeking families from finding safety within our borders, a right that is recognized by national and international law. Title 42, a Trump-era policy, falsely cited these vulnerable children and their parents as COVD-19 public health threats. Ending the misuse of Title 42 is not revolutionary, it merely is a return to the status-quo immigration policies of pre-pandemic times.
WRITE A LETTER!!! Tell your Senator to end Title 42!
P.S.– Mother's Day may have come and gone, but we know the work of moms is never finished. They still need a solid care infrastructure so they can thrive. Care. Can't. Wait.