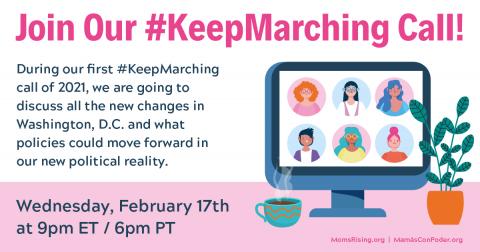 Top #5Actions of the Past Week: Friday, February 05, 2021
It's go time!! The Biden Administration and the new Congress are getting to work on moving forward critically important policy changes -- and they need to hear from you. Important legislation regarding paid leave, voting rights, COVID-19 relief and more are currently being debated and voted on right now. The top actions for this week are all below for you to take in this email. Scroll down and help make change with us!
We also invite you to join us to discuss with our campaign teams what's winnable this year in Washington, DC. We are having our first KeepMarching meeting of the year on February 17th, and you can RSVP below.Thank you!
-- Kristin, Ruth, Beatriz, Elyssa, Gloria, Felicia, Sue Anne, Jordan, and the rest of the MomsRising / MamásConPoder Team
We need paid leave and we need it now
Paid leave saves lives, during the pandemic and always. Congress let it expire in December. We must include it in the next COVID-19 relief package.
We need Congress to pass President Biden's American Rescue Plan AND make paid leave permanent. This will save lives by preventing the spread of the virus, conserve health care resources, and save the jobs of workers and families across America.
Tell members of Congress they must include permanent paid leave in the next COVID-19 relief package.
Tell President Biden to take Executive Action to Abolish the Federal Death Penalty
The criminal justice system is fraught with inequities including clear evidence that capital punishment in the United States is disproportionally applied to Black people and people of color. We cannot allow this to continue.
The death penalty is as cruel as it is ineffective in deterring crime. Revenge is not justice and murder for murder does not provide healing to families or society as a whole.
The time is NOW to abolish the federal death penalty -- Sign on!
#KeepMarching Online Meeting: What's WINNABLE in the New Congress?
A new president! A new administration! And a new Congress! There are so many new opportunities to create real and lasting change for our families, communities, and economy in 2021. And we are more than ready to win!
But what's actually winnable? Join our February #KeepMarching online meeting to learn about many exciting opportunities for MomsRising members to engage in important and long-lasting advocacy that will lift up all of our families and start to pull us out of the COVID economy.
Who: MomsRising members from around the country and MomsRising issue experts on childcare, immigration, and workplace justice issues
What: #KeepMarching call to discuss the new White House, new Congress, and what policy wins are possible with our new political reality
When: Wednesday, February 17th at 9pmET/6pmPT
Join our February #KeepMarching online meeting to learn about what's WINNABLE in the new Congress and how you can plug in!
Call your Senator and tell them to support President Biden's COVID-relief plan now!
President Biden has introduced a bold, comprehensive COVID-relief package called the American Rescue Plan. This is the exact package our families, communities, hospital, and economy needs to start to fight back against this deadly virus and lift up those struggling most. But now we need to get it through Congress! Our families can't afford to wait any longer, so we need you to TAKE ACTION NOW!
Call your U.S. Senators and tell them to pass President Biden's American Rescue Plan immediately! Text ReliefNow to 747464 and we'll connect you directly to your Senator's office.
Quick signature to support the For the People Act
For too long, there have been assaults on our democracy. Unnecessary barriers to voting, gerrymandering, and intentional voter suppression of communities of color is locking too many people out of our political process, and big money and corporate interests still dominate our political system.
Quick signature: Urge your members of Congress to give power back to the people by passing the For the People Act!