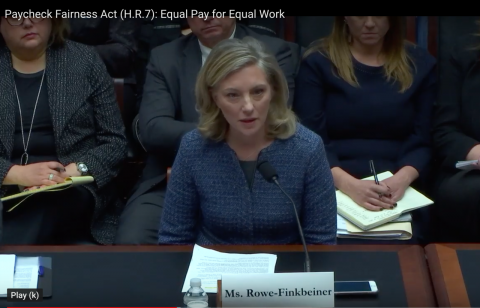 Top #5Actions of the Past Week: February 16, 2019
Greetings! It's been a really big week. Most urgently right now: we're pushing back against Trump's declaration of a national emergency, and need your help to call members of Congress (see below for more info).
This week also marked the first anniversary of the Parkland shooting, and we're urging legislators to finally pass universal background checks. Scroll down for more information on both, and for urgent actions on immigration and paid family leave, too.  
MomsRising staff and members have also been on Capitol Hill and on the ground across the country talking about equal pay, paid leave and immigration. Check out photos below. 
Thank you for all you do, and please scroll down for our top #5Actions of the past week. Be sure to share with family and friends too. Thank you! 
1. CALL CONGRESS NOW: There is no national emergency!!
BACKGROUND: Years of childrearing have taught us that failure to get your way is NOT a national emergency. Donald Trump's temper tantrum undermines Congress by manufacturing an emergency in order to build a wall the country neither wants nor needs, and is a gross violation of the President's powers and a dangerous step towards authoritarianism. We urgently need you to call your U.S. Senators and tell them to support a joint resolution to end Trump's emergency status and stop his misuse of national emergency powers. We make it super easy - just click here to get a sample script of exactly what to say, plus additional talking points you can use in your conversation if you want. Then your phone will ring and connect you to the office of your U.S. Senator. Read the script (or more), and you are done!
2. This Valentine's Week Tell Wells & JPMorgan Chase: Break up with private prisons!
BACKGROUND: While professing a desire to respect human rights, Wells Fargo and JPMorgan Chase continue to fund GEO Group and CoreCivic, the biggest operators of private prisons and immigrant detention centers. *Sign this petition to let Jamie Dimon (Chase) and Timothy Sloan (Wells Fargo) know that customers and potential customers are not afraid to align our money with our values. If Wells Fargo and JPMorgan Chase don't take action, we will -- by pledging to, and/or encouraging others to, break up with Wells Fargo and JPMorgan Chase and switch to banks that actually respect our communities instead! #RealMoneyMoves. Sign on to urge the CEOs of Wells Fargo and JPMorgan Chase to Break Up with Private Prisons, or We'll Break Up With our Banks! *BIG THANKS to everyone who helped deliver materials to local branches on Valentine's Day, too!
3. FAMILY Act Reintroduced! -> Now let's remind Congress that paid leave is our jam!
BACKGROUND: Like peanut butter and jelly, equal pay and paid leave aren't fancy concepts, they're not luxury items - they're basics that stand alone, but are better together. That's the message we're taking to Congress in the next few weeks, and we need your help! Add your name to our letter urging every member of Congress to co-sponsor and support the FAMILY Act - the paid family and medical leave insurance act that will soon be reintroduced in Congress. The FAMILY Act is an insurance program that would provide workers — including those who are self-employed and/or work part-time — with much-needed income while they, or a family member, welcome the arrival of a new baby or deal with a serious health issue. This new, self-sustaining program would be funded through very small, shared costs to employees and employers. Let's make as much noise as possible - add your name now! 
4. One Year Since Parkland: Urge Congress to pass universal background checks! 
BACKGROUND: It's been one year since the Parkland school shooting that left 17 students and educators dead, and another 17 injured. And over these last 12 months, guns have continued to devastate families and communities across the country. Let's give a valentine to the Parkland families — and to all families who have lost loved ones to gun violence —by joining our voices in a powerful call for Congress to take action and pass universal background checks (H.B.8) now! Click here to call Congress - it's super easy! You will be taken to a page with a sample script of exactly what to say, plus additional gun safety facts you can use in your conversation if you want. Then your phone will ring and connect you to the office of your U.S. Representative. Read the script (or more), and you are done!
BACKGROUND: In a shocking revelation, the Inspector General of the Department of Health and Human Services (HHS) says that not only were "thousands" more migrant children separated by the Trump administration than previously known, but that they didn't even know how many children were taken away from their families because of failures to track families as they were being separated! It is horrific that thousands of children were forcibly removed from their parents and unspeakable that the fate of these children is still unknown. To date, no one has been held accountable for this ethical and humanitarian disaster, instead President Trump continues to demand more funding for the very agencies that separated children as a condition for reopening the government. Sign on to tell Congress and U.S. Secretary of Homeland Security Kirstjen Nielsen to immediately end these cruel policies and practices, and reunite every child.
INSPIRATIONS OF THE WEEK!
This week our Executive Director Kristin Rowe-Finkbeiner testified before Congress about the importance of equal pay, MomsRising members across the country delivered messages urging Wells Fargo and JP Morgan Chase to stop funding private prison corporations, and MomsRising Senior Campaign Director Karen Showalter shared her story about needing paid family and medical leave alongside leaders of Congress as part of the reintroduction of the #FAMILY Act. #Inspired!      
Thank you for all you do!