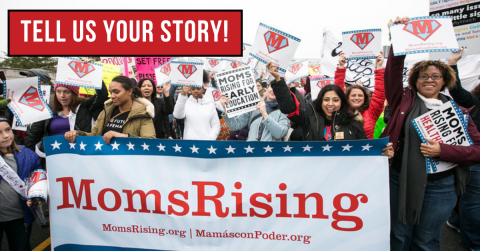 Top #5Actions of the Past Week: February 1, 2019
Happy Friday! We hope that everyone affected by the extreme winter temperatures is safe and warm. And we look forward to learning all of the new games you've had to invent to keep the kids entertained, after so many days of cancelled school!  
Below please find our latest list of top actions for the week, on hot topics including gun safety, protecting our democracy, fair pay, immigration, and more. Please be sure to scroll down and make sure you've added your name to all. 
THANK YOU for all you do, and PLEASE SHARE this important list with friends and family. Here's the list! => 
1. Your Story Can Make a Difference in the Fight to Protect our Democracy!
BACKGROUND: Parents are the most powerful voices we have to help cut through the political rhetoric and get down to what's most important for our nation's democracy to thrive. And now is the exact right time to speak out! Everyone in our nation is directly or indirectly affected by our broken political system. Have you or a family member:
Had problems registering to vote or voting, or found that your registration had been purged without your knowledge?
Live in a state where partisan gerrymandering has tilted the political system away from the interests of the people?
Been impacted or disappointed by the lack of progress on certain policy issues due to the influence of big money in politics?
Have other thoughts about why implementing reforms to protect our democracy is important for your family?
Please share! We will use these stories to educate our leaders and the public about how critical protecting our democracy is at this moment in our nation's history.

2. Sign Up to Visit the Local Office of Your Member of Congress to STOP Family Incarceration
BACKGROUND: Right now, across the country, families seeking asylum - many of which are led by moms - are being held in prison-like facilities. Children and families should not be incarcerated. These facilities are also expensive, and are funded through our tax dollars. We can intervene today by letting our members of Congress know that their constituents do not want their taxes used to pay for children and family incarceration, and that Congress should instead allocate money for common sense and fiscally responsible alternatives to detention like the highly effective family case management program. Sign up here for a high impact delivery to your members of Congress' local state office to STOP child and family incarceration!

3. Urge Congress: Pass universal background checks! 
BACKGROUND: In November 2018, dozens of candidates ran on gun safety and won, changing the balance of power in Washington, D.C., and promising that gun safety would be a top priority for the 116th Congress. Less than a week after being sworn into office, the new leadership delivered. Congress has just introduced bipartisan legislation to strengthen background checks on all gun sales. It's now up to us to help push it forward. In the U.S. House of Representatives, five Democrats and five Republicans introduced the Bipartisan Background Checks Act of 2019 (H.R. 8) in honor of former Congresswoman Gabrielle Giffords on the 8th anniversary of the Tucson shooting that left 19 people dead or injured, including Giffords. In the U.S. Senate, Senator Chris Murphy (D-CT) introduced the companion legislation, The Background Check Expansion Act. Join us to tell Congress that moms and families want universal background checks NOW to keep our kids and communities safe!

4. Tell Your Member of Congress: Co-sponsor the Paycheck Fairness Act! 
BACKGROUND: Why do we need the Paycheck Fairness Act? Because right now, women of color and moms still earn far too little compared to white men and dads. Moms are typically paid just 69 cents for every dollar paid to dads, while Latinas are paid 53 cents, Native American women 58 cents, Black women 61 cents, and Asian women 85 cents for every dollar paid to white men. Overall, women make 80 cents on the dollar. This has to stop! We need the Paycheck Fairness Act to be reintroduced with strong support from our members of Congress. Raise your voice now for the Paycheck Fairness Act!

5. Take Action and Tell Your Story for Comprehensive Gun Safety Reform
BACKGROUND: The new Congress will soon start working on House Bill 8 (H.B. 8) that mandates background checks on virtually all gun sales. Moms, dads, grandparents and family members are beyond ready to help push forward this long-awaited, common-sense measure that enjoys 97% public support. But universal background checks is just the first slice of the pie. Sign on to support passing H.B. 8 immediately and then fighting for the whole pie: comprehensive gun policy reform, including banning military-style assault rifles!

INSPIRATION OF THE WEEK!
MomsRising was thrilled to be on Capitol Hill for the reintroduction of the Paycheck Fairness Act this week, and so proud of our member Adriana for sharing her story of being paid unfairly as a restaurant worker at the event.
Thank you for all you do!