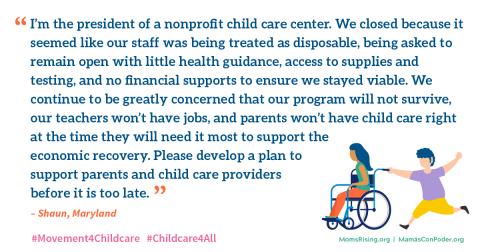 Top #5Actions of the Past Week: April 24, 2020
Happy Friday. We hope you've had a good week, and are looking forward to some down time this weekend. We know how busy these times are, whether you're able to stay at home, or one of our brave workers on the front lines. Our weekly list of Top 5 Actions is a handy round-up of the biggest campaigns we have moving right now. Scroll down to review and sign each of our important calls-to-action. Now more than ever, we need to make sure our voices are heard around issues that matter to our parents and families. 
Thank you for all you do and here's the list =>
1. Tell Congress to Act to Save Child Care 
BACKGROUND: A new report released this week from the National Women's Law Center and CLASP found that it will cost an estimated $9.6 billion each month to stabilize our child care system and provide emergency care to children of essential workers during the pandemic. Child care is essential to support families in getting back to work, but many providers are in danger of closing. The size and scope of the impact of this public health crisis on the child care sector is profound and growing. Urge Congress to provide at least $50 billion in child care funding to ensure the stability of our child care system so parents and caregivers have child care to return to when this crisis is over! Child care could be gone if Congress doesn't #FundChildCare NOW!
2. Demand an Essential Workers Bill of Rights
BACKGROUND: The fabrics of our communities are being held together by the labor of essential workers. Health care workers, childcare workers, domestic workers, social workers, grocery workers, and farm workers are keeping us healthy, taking care of our families, and putting food on our tables. Yet, many workers aren't being given protective equipment or supplies, can't speak out about workplace safety without risking their jobs and healthcare, and are bringing home poverty-level wages. Join us in demanding that Congress include an Essential Workers Bill of Rights in the next COVID-19 response package.
3. RESOURCE: Know Your Rights to Pandemic Paid Sick Days and Paid Leave
Click Here to Get Your Questions Answered
BACKGROUND: Big News! For the first time ever, thanks to the new Families First Coronavirus Response Act, our nation will have a *limited*, nation-wide, paid sick days and paid family leave law in place during the COVID-19 crisis. The new law is a huge deal and we all helped make it happen. Thank you! But how will it work? Who's covered? How do you access the benefit? Click here to find out and help spread the word!
4. Join the Next #KeepMarching Zoom Meeting -> COVID-19: What's happening in prison, jails, ICE detention centers?
BACKGROUND: One COVID-19 crisis at a breaking point right now is our mass incarceration rate, combined with crowded detention facilities with totally inadequate health protections. There are 2.3 million people behind bars. On any given day, more than 400,000 people are held pretrial in jails mostly because they don't have enough money to be home with their families. Moreover, 38,000 people are currently being held in ICE detention centers. At this #KeepMarching online Zoom meeting, we'll be looking at incarcerated communities, how our systems are broken, how so many people are detained unjustly, the impact of COVID-19 on these populations, and what should be done.
5. Sign NOW to Help Save the U.S. Postal Service and Our Democracy!
BACKGROUND: Last week, voters in Wisconsin had to risk their lives to go out to cast a ballot in-person, which was not okay! The COVID-19 pandemic and the 2020 elections make it clear that now more than ever we need to be able to mail in our ballots. The U.S. Postal Service (USPS), also struggling to weather the impacts of the pandemic, is now in danger of going under right when we need it most. This would be a giant blow to our democracy, businesses, economy, and communities. There's no time to waste! Your voice, power, help, and hope is needed. *Add your quick signature now!
Thanks for all you do!