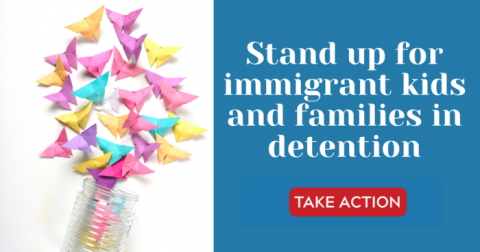 Top #5Actions of the Past Week: April 17, 2020
Well, it's the end of another busy week. How have you been? Please take a moment to catch up on our top actions below. This week we're sharing a bonus sixth one too! Scroll down to speak out in defense of our democracy, gun safety, and paid leave. RSVP for our national webinar on COVID-19-related resources this coming Tuesday night. Get tips on making and sending butterflies in support of migrant children. And share your stories around paid leave and abortion.
Thank you for all you do and here's the list =>
1. Sign NOW to help save the U.S. Postal Service and our democracy!
BACKGROUND: Last week, voters in Wisconsin had to risk their lives to go out to cast a ballot in-person, which was not okay! The COVID-19 pandemic and the 2020 elections make it clear that now more than ever we need to be able to mail in our ballots. The U.S. Postal Service (USPS), also struggling to weather the impacts of the pandemic, is now in danger of going under right when we need it most. This would be a giant blow to our democracy, businesses, economy, and communities. There's no time to waste! Your voice, power, help, and hope is needed. 
*Add your quick signature now by filling out the form on this page to call on Congress to save the U.S. Postal Service, and with it, our democracy and our health!
2. COVID-19 Support Programs Webinar: All You Need to Know and How to Apply!
BACKGROUND: Tuesday, April 21 8 pm ET/5 pm PT! Join MomsRising, along with experts from CLASP, National Employment Law Project (NELP), Food Research and Action Council (FRAC), and National Immigration Law Council, for an online webinar to learn the nuts and bolts about what you need to know to apply for assistance during the COVID-19 pandemic.
-> We will have live translation in Spanish language too! RSVP to save your spot. Confirme su asistencia en la siguiente página y le enviaremos las instrucciones de cómo unirse al evento.
3. Quick Signature: Tell your governor to respond to panic gun buying!
BACKGROUND: Being safe at home has never been more important. Unfortunately, fear has motivated the panic buying of firearms, particularly by first-time gun owners. But research shows that bringing a gun into a home makes the home less safe, and this is particularly true in the current moment when domestic violence is increasing. Social distancing is intensifying feelings of isolation and patterns of abuse among people trapped in place. Sharply rising call volumes to mental health and domestic violence hotlines indicate that we are poised for an outbreak of suicide and domestic violence injuries and deaths as a side-effect of the COVID-19 health emergency. There are clear steps that governors can take to reduce the risk of gun injury or death. Urge your governor to address panic gun buying and reduce the risk of gun violence as part of their efforts to secure the health and safety of everyone during the current COVID-19 health crisis.
4. Make a Butterfly to Free Migrant Children and Families in Detention
BACKGROUND: Help us send a strong message to urge the White House, ICE, and ORR to immediately release children and their families from detention by creating a butterfly and sending the image via tweets and Instagram to key decision makers. It's an easy and powerful way for kids and adults to use their voices and creativity to help others in this difficult time. Will you join us?
5. Have You Needed Paid Leave During COVID-19? Share with lawmakers now! 
BACKGROUND: Leaders need to hear how your experiences with paid leave during COVID-19.
Have you been able to access paid leave and/or paid sick days through the new Families First Coronavirus Response Act?
Are you one of the 96 million working Americans that have been left out of the Families First Coronavirus Response Act?
Are you a healthcare worker with concerns about the loophole in the law that allows employers to exempt healthcare providers and emergency responders from accessing paid leave?
Click here to share, and we'll share your experiences directly with leaders!
And check out these helpful resources on the new paid leave policy, who's covered, how it works, and more. 
6. Have you or someone you love needed abortion services? Tell us your story.
BACKGROUND: Abortion care is essential. Governors across the country are using the COVID-19 pandemic to issue executive orders to halt access to abortions, claiming them as non-essential. We are relieved that states like Texas, Ohio, and Oklahoma have, for now, regained access to abortion care after facing legal battles. It is critical in this time to educate lawmakers, who are currently pushing back on reproductive healthcare, on why it's important to STOP these plans to roll back our rights to reproductive health and freedom.
ALSO COMING UP: 
Webinar: Pregnancy & COVID-19: Know Your Rights in the Workplace! Are you a pregnant worker? Are you working on the front lines, in health care or other essential services? Want to know more about your workplace rights? Join our friends at A Better Balance for this in-depth webinar (Wednesday, April 22, 12 - 1 PM Eastern Time) on the various federal, state, and local laws that may protect you as a pregnant worker, including paid and unpaid time off, reasonable accommodations, and the right to be free from discrimination in the workplace. There will be an opportunity to ask questions.