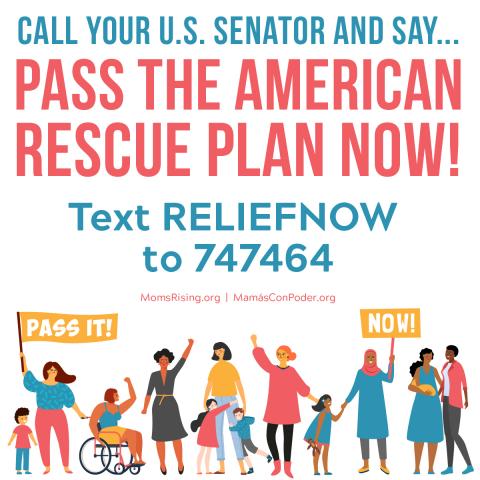 Top 5Actions for Friday, Feb. 26: All about COVID relief
We are at a turning point in the fight against the deadly COVID-19 virus. This week marked a heartbreaking milestone with 506,000 deaths in the United States from COVID-19. [1] So many of our families are hurting in so many different ways. But change is coming and we have a reason to feel hopeful -- and we need YOUR help to make sure positive changes happen as fast as possible!
For our #5Actions this week, we are urging Congress to move forward COVID relief ASAP. This is important because in the coming hours, the House of Representatives will be voting on the American Rescue Plan, President Biden's comprehensive emergency COVID-relief package, and then that package will go to the U.S. Senate -- so we have a lot of work to do. From vaccines to childcare to unemployment benefits to addressing the staggering levels of hunger in this country; there is so much our families desperately need and this legislative package begins to make real changes that our families, businesses, healthcare workers, and economy will feel quickly. So we are asking you this week to take five important actions on COVID relief: sign our letters, call your Senators, and share your stories—because when you speak out it makes a huge difference!
-- Elyssa, Ruth, Nina, Kristin, Sue Anne, Jordan, and the rest of the MomsRising / MamásConPoder Team
Tell Congress: We need the COVID-relief that helps our families now!
Right now there is a bold, comprehensive plan moving through the U.S. Congress that will bring our country back from the personal, health, and economic despair brought on by the COVID-19 pandemic. From vaccines to childcare to paid family leave to addressing the staggering levels of hunger in this country to raising the minimum wage there is so much our families desperately need. We need YOU to speak up right now to lift up our families, communities, healthcare workers, and economy!
SIGN OUR LETTER to tell Congress to immediately pass the emergency American Rescue Plan and to next turn their attention to the ways we can build back better, including building a permanent care infrastructure that allows families, businesses, and our economy to thrive.
SIGN our letter to strengthen the EITC and Child Tax Credit!
We need real solutions that put real money in the pockets of struggling families. Luckily there is an answer already working its way through the U.S. Congress: Expanding and increasing working family tax credits like the Earned Income Tax Credit (EITC) and Child Tax Credit (CTC).
SIGN OUR LETTER NOW calling on your members of Congress to include an increase and expansion of the EITC and Child Tax Credit in the COVID package⎯and pass a permanent expansion of these working family tax credits this year!
Call your U.S. Senator and say "Pass COVID-relief now!"
President Biden's COVID relief plan, the American Rescue Plan, is making its way through Congress. And now it's up to the Senate to make sure our families are able to access the emergency programs we so desperately need like a extended unemployment benefits, a childcare stabilization fund, eviction protections, and increased funding for vaccines. Phone calls are one of the most high impact ways to let our elected leaders know that we are watching them and we expect them to take action quickly!
Text ReliefNow to 747464 or call 1-888-523-8974 to connect to your U.S. Senator's office and tell them to pass the American Rescue Plan immediately!
Use your outside voice to #SaveChildCare!
We are a year into the COVID-19 pandemic and parents and caregivers and still struggling to work, attend college, participate in job training, and take care of other household responsibilities because of no child care, school, or hybrid models of pieced together school and care that don't match the needs of families. Overall, there are 2.3 million fewer women in our country's workforce today than were in it before the pandemic began last February. Simply put, there is no recovery without child care and we MUST do better.
Sign on to send a quick message to your lawmakers right now and urge them to save child care?
Nearly one year into the pandemic, how's it impacting your family?
As we approach the 12 month mark of lockdowns across the country, and over 500,000 lives lost, shuttered schools and businesses, we want to know: How has your family been impacted by the coronavirus (COVID-19) pandemic? We want to increase pressure on our elected officials and policy makers to provide immediate relief to our families. Sharing your personal experiences can make a HUGE difference in helping elected leaders understand why taking critical steps—extending and expanding emergency benefits including paid leave, unemployment insurance, and supporting childcare—are essential to the health and well-being of our communities.
There is no time to waste — tell elected leaders how you're being impacted by the coronavirus now as they work on solutions!
P.S. – Let's use our outside voices for health care! Sign up to help spread the word about the NEW Special Enrollment Period!