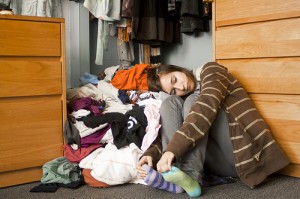 Photo credit: Photo by Flickr user Lauren Chagaris
Are you staring down a pile of dirty laundry right now (Full Disclosure: I am. Basically always)? Laundry, like dishes, can feel like one of those endless chores. No matter how often you do it, you just keep generating more of it. The clothing that we wear every day should be as toxic-chemical-free as possible; but with our busy schedules (including those endless chores like laundry), detoxing your clothing can feel like a hassle. Luckily, there are easy, budget-friendly ways to make your laundry safer without adding a lot of extra work to your laundry process.
Cool it: Save money, and energy, by lowering the temperature of your washing machine. According to Savvy Brown, 85% of the energy used to wash clothes goes entirely to heating up the water. Cold water is color-safe, gentler on delicates, and a money saver, since lower temperatures can lower your gas bill too. Surprisingly, cold water can also have a positive effect on your indoor air quality. Alexandra Zissu, author of Planet Home, says "heating water blasts volatile chemicals, including chlorine in municipal water, into your breathing space."
Buying laundry supplies: Keep these rules in mind when you stock up on laundry supplies:
DIY laundry supplies: Replace a few standard laundry supplies with easy, DIY versions featuring just a few inexpensive ingredients.
Easy stain removal: Ditch toxic, commercial stain removers (and save a little money) and try out these easy old-school stain removal tips. This infographic shows you how to remove common stains with ingredients like baking soda, lemon juice, and club soda.
Dry cleaning: But what about those dry-cleanables lingering in your closet? Perchloroethylene, a chemical prominently used in dry cleaning, has been linked to cancer as well as nervous system, kidney, liver and reproductive disorders. If it's not possible for you to give up dry cleaning, there are some easy solutions. Switch from traditional dry cleaning to wet cleaning, which replaces common toxic solvents with biodegradable soap. Debra Lynn Dadd (The Queen of Green) has an outline of which solvents to look out for, and which ones are safe to use. Healthy Child, Healthy World recommends using these two directories to find local, green dry-cleaners.
If you want to stick with your dry cleaner, try to dry clean less items, less frequently. Go through your dry clean only clothing and determine if any of it could be washed by hand instead of sent to the cleaners. And when you bring dry cleaning home, take it out of the plastic and let it off gas outside or in a well ventilated area.
This blog is a part of the Healthy Child, Healthy World blog network.