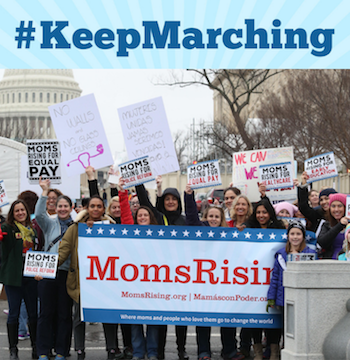 TONIGHT: Online #KeepMarching Meeting on Immigration!
Autumn is in full swing - and as we plan for events and holidays that bring our families closer together, it's important to remember that immigrant families are still being torn apart.
Immigrants are our neighbors, friends, and family members, and we must step up for them. Our October #KeepMarching meeting is Tuesday, October 29, 8 PM ET / 5PM PT, and we'll be talking about attacks on immigrant rights, the human toll of these appalling laws and practices, and what we can do to help.
RSVP now: https://action.momsrising.org/survey/km_webmeeting_oct19/
Under the Trump Administration, detention of individuals and families has exploded and many parents are being separated from their children. Children deserve to be with their families outside of cages and they must have their rights protected. Jailing children and families, increasing ICE raids, taking funds from emergency services to help build a wall along the Southern border - these actions are unAmerican pure and simple.
Immigrants are under attack, and we must act to hold the Trump administration accountable for its role in these human rights abuses.
We'll be joined by several special guests:
Izabel Solis, sister of pregnant mom who was detained at Otay Detention Center, will discuss the impact of immigrant detention on women and families.
Karen Showalter, MomsRising Senior Campaign Director, will explain the Shutdown Berks detention center campaign.
Xochitl Oseguera, MamásConPoder National Director, will unpack TPS and public charge rules.
Jasmine Rashid, Creative Director, Candide Group, will talk about wins and next steps in the campaign to end bank financing to private prisons.
Donna Norton, MomsRising Executive Vice President, will act as our special guest moderator. 
RSVP now to join the meeting to talk about attacks on immigrant rights and what we can do to help.
This conversation is part of a series of regular online #KeepMarching meetings that Gloria and I host on the last Thursday of each month to give you the inside scoop on what's happening on issues and politics, fill you in on MomsRising's hot campaigns right now, and hear what YOU have been up to. We'll be using Zoom, so you can participate via video conference OR just phone in if you prefer (though we'd love to see your face!).
Your perspective is crucial to our work -- and we want to hear from you! MomsRising needs our members more than ever to help defend immigrant rights. Please help us keep up our team-building work in 2019 - join us on our October 29th Zoom meeting at 8PM ET/5PM PT! RSVP NOW ⇒ https://action.momsrising.org/survey/km_webmeeting_oct19/
Are you ready to take action to help protect immigrant rights? Looking forward to connecting with you over video or phone on Tuesday, October 29th!