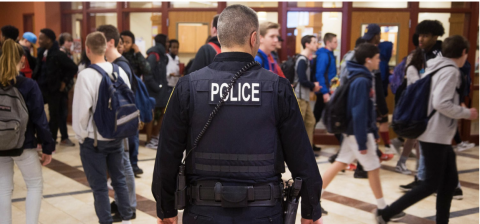 Together we can END the criminalization of kids in schools. Tell Congress to support the Counseling Not Criminalization Act!
Over the years we have all witnessed countless numbers of Black people killed at the hands of the police.   Black people whose communities experience excessive policing and rampant police terror are too often left grappling with the devastating and traumatic impacts of having to see or hear about these killings, and never seeing the officers responsible for these murders held accountable.  An important piece of the conversation about the role police play in our lives is the role they play in the lives of our children and specifically in schools. We too often assume that the presence of police in schools is synonymous with safety. It is NOT. And like the police outside of school, data increasingly shows that police in schools, often called SRO's (school resource officers) disproportionately target Black children and push them into the juvenile and criminal justice system. 
Nationally, Black children are about two times more likely to be arrested in school than white children, and in some states like Maryland, the number jumps to three times more likely. This is not because Black children misbehave more but rather because they are punished more often and more harshly than their white peers. 
The physical, social, and emotional health of children in schools is critical to success and safety. Yet, 1.7 million students are in schools with police but no counselors, 10 million students are in schools with police but no social workers, and 14 million students are in schools with police but no counselor, nurse, psychologist, or social worker.  Many states reported two to three times as many police officers in schools as social workers, and five states reported more police officers in schools than nurses. This is unacceptable. Even more horrifying is that from 2013 to 2018, over 300,000 children under the age of 12 were arrested in the US. The stories are heartbreaking.  A six year old in Orlando having a temper tantrum and placed in the handcuffs and driven to a juvenile detention facility.  A highschool student body slammed down to the ground after asking if he could call his grandmother to pick him up. 
We ALL want schools to be safe, but there is NO  evidence that increasing the number of police in schools actually improves school safety.
School counselors, nurses, social workers, and psychologists are trained to support children, and in schools where these professionals are able to provide services we see improved attendance rates, better academic achievement, and higher graduation rates. These same schools also see lower rates of suspension, expulsion, and other disciplinary incidents. The data on this is clear.  The presence of school-based mental health providers doesn't just improve outcomes for students, it can  also improve overall school safety.
Schools are regularly having to make draconian cuts to their budgets, leaving too many schools without the resources needed for our most vulnerable students. Funneling money into more school police and other practices that criminalize students is not the answer to creating safe school environments. 
National and local research consistently demonstrates that the presence of police in schools serves as an entry point to the school-to-prison pipeline and disproportionately harms Black, Indigenous and Latinx students; students with disabilities; and students in need who are furthest from opportunity.  The reality is study after study show virtually no gains from having police in schools. There are measurable ways to increase school safety that don't promote the school-to-prison pipeline and have been proven to be successful. These measures include restorative approaches, more mental health staff and counselors, social-emotional learning, and trauma-informed care in our schools. The Counseling Not Criminalization Act is an important step towards shifting resources away from practices that harm and push kids out of school into what helps students thrive, keeps schools safe, and ends the criminalization of kids in schools. 
Here's the rundown on the bill:
The Counseling Not Criminalization Act prohibits the use of federal funds for police in schools in addition to supporting school districts in transitioning away from police in schools. The bill establishes a $2.5 billion grant program for school districts to replace law enforcement in schools with personnel and services that support mental health and trauma-informed services, as well as reforms to school safety and disciplinary policies with evidence-based practices. Districts must provide assurance that they will terminate any existing contract with local law enforcement by the time they receive grant funding and cannot establish a new contract throughout the duration of the grant. The grants can be used for hiring or training school counselors, school psychologists, nurses, social workers, or other specialists with expertise in school climate and behavior. Implementing school-wide positive behavioral interventions and supports, or other trauma-informed services. Providing professional development to educators to prevent, mitigate, and provide services to students to reduce the effects of trauma and foster safe and stable learning environments.
Together we can END the criminalization of kids in schools. Tell Congress to support the Counseling Not Criminalization Act!