Tips Tuesday: 5 Nontoxic Craft Tips for Kids
Keep the little artists in your life healthy and safe with a few simple art supply swaps and DIY fixes!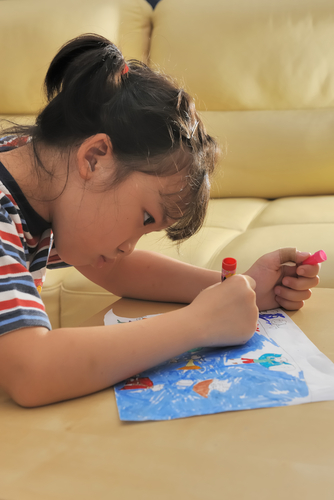 Smocks: Smocks can help preserve clothes, and reduce skin contact with chemicals from art supplies. Make sure the smock you choose is the safest: CHEJ recommends using fabric smocks to avoid PVC. Instead of buying a smock, you can use old shirts and clothing. Or if you're feeling crafty, try this DIY smock tutorial  or this no-sew towel smock.
Markers:  Skip the scented markers! According to the Environmental Working Group, the chemicals in marker fragrances aren't listed, so you don't know what you're inhaling when you get a whiff of scented markers. And fun packaging and smells encourage kids to sniff. Choose unscented markers instead. Also avoid permanent and dry-erase markers, which contain solvents.
Polymer clays: Polymer clays, the kind that stays soft at room temperature but you can harden it in the oven, often contain toxic PVC and phthalates. Luckily, there's a fun and easy fix: You can make your own clay out of simple kitchen staples. Here are a few clay recipes that you can try at home:
To add different colors to your homemade clay, use some easy DIY food coloring. Berry juice from blueberries or raspberries can make a great dye, as can juice from carrots or beets. You can experiment with colorful spices like tumeric, or other brightly colored juiced fruits and vegetables. Use a little bit and add more as needed.
Wash your hands: Children are much more vulnerable to ingesting chemicals from art supplies through their hands, either by touching or putting their hands in their mouths. Make sure to enforce frequent hand washing while using art supplies, and save snack time and beverages for after craft time: Eating while using art supplies is another easy way for kids to ingest chemicals from their art supplies.
Recycled crafts: Incorporate recycling into your craft projects! Your recycling bin can be full of unexpected craft materials. Here are a few recycled craft projects to get you started. What recycled or upcycled craft projects have you tried? Leave your craft ideas in the comments!
Additional Resources: