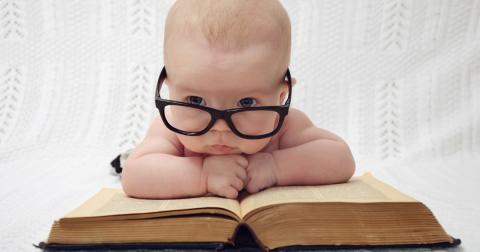 Time to Give Congress a Summer Reading Assignment
Question: What do Facebook, the U.S. Navy, and New York State all have in common?  
Answer: In the last year, each took real steps to expand working families' access to paid family leave, and we know that access to paid family leave is one of the best ways to boost breastfeeding rates! Wahoo!  
And while it's great news that some companies, some states and the military are making strides to expand paid leave and boost productivity, their bottom lines, and their states' economy, the truth is we need all working people to have access to paid leave, not just folks who have won either the "boss or location lottery." As we head into summer, it's the perfect time to make sure more elected officials get a little "summer reading assignment" to help them learn and understand why paid leave boosts breastfeeding and why they should care!
Join us! Sign up to deliver a summer reading assignment (a 12 page booklet) of stories from MomsRising members about breastfeeding and paid leave to your local Congressional office!
Here's the lowdown: When it comes to needing time away from work to care for a newly arrived child, lots of people think of the 23 year old Family and Medical Leave Act (FMLA). But the FMLA doesn't cover everyone and, while it does include job protection, it is unpaid leave. Only 13% of working people have access to paid family leave via their employers.
We know that employed mothers typically find that returning to work because of a lack of maternity leave is a significant barrier to breastfeeding. At the same time, women with longer maternity leaves are more likely to combine breastfeeding and employment.
This is why paid family leave is so strongly connected to a woman's ability to establish breastfeeding. A maternity leave of 6 weeks or less is associated with a fourfold higher risk of not establishing breastfeeding.
Whenever I've spoken to people about this topic, they quickly get outraged when they better understand the reality. And they want to do something about it.
We've compiled a booklet filled with stories from moms and dads from around the country. They've shared their stories and their struggles as they attempted to establish breastfeeding even though they had to cobble together time off.
Why not give our lawmakers something to read this summer?
We know that stories matter and hand delivering stories can have a powerful effect on our lawmakers.
Are you game? Let me know you'd like to deliver the booklet and I'll send you everything you'll need. 
If you're looking for something else to do this summer and in the interest of blending activities: I know we'll all be meeting up with family and friends intermittently over the next couple of months. Why not have your own forum on paid family leave? Head on over to the MomsRising Moms Meetup page and get started. We will provide a comprehensive toolkit with all of the information you'll need. You can have your meetup anywhere. The beach, the backyard, the library. You choose!