This Witch Will Save Me from Halloween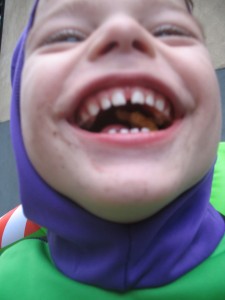 I don't know about you, but I find Halloween to be a particularly challenging holiday. It's not a gauntlet to run through, like Hanukkah and Christmas—that I can prepare for, with lower-calorie adaptations and proven strategies. It's not a solidly defined period, like Passover. It's not a giant feast like Thanksgiving, where if I overindulge I know it's over and can move on quickly. No, Halloween is one of those death-by-1000-finger-cuts situations. Temptations present themselves again and again, in unexpected places, for most of October.
It used to be that, as long as I was freelancing from home, without the mini-Twix bars beckoning from an office neighbor's candy bowl, I did all right. We live on a fairly industrial Brooklyn block, and in my eight years living here we've never had a trick-or-treater—no need to stock up on goodies to eat until my stomach hurts give away. Even after becoming a mom, I managed: Harry didn't know trick-or-treating existed for his first four Halloweens. We'd dress up and hit the "Witches Walk" kiddie parade through the neighborhood, and he'd be thrilled. But once he started public school, there was no avoiding it.
People, they trick-or-treat through the school. Parents are encouraged to send in packages of goodies for each classroom to give away. And then after school, we hit that parade—where Harry now understands that the local businesses give out candy. And last year, he begged to do some actual trick-or-treating after dark. I couldn't say no to such a treasured childhood ritual. His haul lasted for a good month, and every day I had to fight the urge to sneak a piece while he was at school. I wasn't always successful.
This year's going to be different. This year, I've got a plan. The "Switch Witch" is coming.
I can't remember where I first heard about her, but the Switch Witch is possibly the most amazingly awesome parenting invention ever. Better than Santa. Better than the Tooth Fairy. Because the Switch Witch doesn't just give—she takes away. In exchange for Harry's bagful of Halloween candy, she's going to leave a toy in his room on Halloween night. We'll tell him all about her in the week leading up to the holiday, and he'll get to eat plenty of candy at school and during his trick-or-treating, but the bulk of it will vanish almost as soon as it comes home. Of course, the real trick will be to force myself to throw all that perfectly good candy in the garbage, and not keep a small stash for myself…
What's your best strategy for dealing with Halloween candy?
This post originally appeared on Feed the Parents, Debbie Koenig's blog for Weight Watchers.