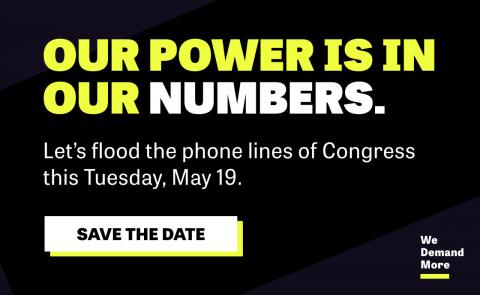 THIS TUES: Add your voice to the next COVID-19 stimulus!
Last Friday, the U.S. House released a new phase of the COVID-19 relief package, the HEROES Act. Because of the efforts of fearless MomsRising members and action takers like you, many of your priorities and demands are included in the package including: a HEROES' fund of $200 billion for essential workers who are risking their lives in the midst of the pandemic; a stronger Payroll Protection Program (PPP) which will extend the urgently needed PPP loan program as well as help ensure communities of color receive the support they need and quickly; an increase in funding for testing and treatment of the virus; and, also importantly, an extension of Paid Family Leave and Unemployment benefits.
-> Tell your U.S. Senators: Pass the HEROES Act quickly! Right now is not the time for U.S. Senate to stall-- millions of Americans are faced with both financial and healthcare burdens and require immediate relief. 
The HEROES Act is just a start. Congress must also turn its attention to creating more pathways and funding to reduce incarceration, which is critical to public health; and to the emerging crisis in child care, which has become a national emergency with centers closing every day and many not expected to be able to reopen so that parents can go to work without substantial public investments.
MomsRising has joined forces with the National Women's Law Center, Black Women's Roundtable, Planned Parenthood, UltraViolet, NARAL, Women's March and 70 women's organizations from around the country to demand more -- much more -- for women and our list of demands remains the same:
Prioritize our health and safety ahead of corporations.
Get life-sustaining relief to us NOW.
Make state governments strong; they are our lifeline.
Stop the attacks on our reproductive care, including abortion access.
Protect our safety and our right to vote in 2020.
Now that the U.S. House has passed the HEROES Act, the U.S.Senate must do everything in their power to make sure this Act passes quickly too. Women, our sisters, our people cannot wait any longer for protection from the devastations of the COVID-19 crisis. We need relief, funding, and support NOW. 
By taking action with us, you are standing up for your family, friends, neighbors, immigrants, and essential workers. Help us all by continuing to keep the pressure on the U.S. Senate by signing on with us.
*After you sign on, please take a moment to share the action link on Facebook or Twitter -- or share this post with friends.  The more of us who take action, the faster we'll make changes together.
#WeDemandMore
P.S. Mark your calendar now to join us this Tuesday, May 19, for a national day of action. We will keep our U.S. Senators' phones ringing all day long, with demands to give women the COVID-19 relief they deserve. 
P.P.S. MomsRising and dozens of our We Demand More Coalition partners are working together to fight for women and families. Has your family and community been impacted by the coronavirus (COVID-19) pandemic? Tell us your COVID-19 story. Personal experiences are powerful and can make a HUGE difference in helping elected leaders understand why taking critical steps—like passing paid sick days and ensuring COVID-19 testing is widely available—are essential to the health and well-being of our communities. 
P.P.P.S. Are you looking for more information on how to access the COVID-19 support programs Congress has already passed (like unemployment insurance, paid family leave and paid sick days, and nutrition assistance)? We've got you covered! Check out this video and resources from a webinar we held last week.