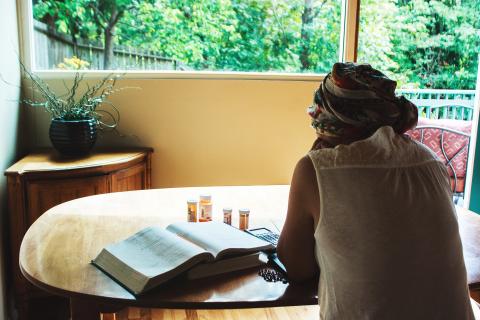 This Professor's Secret Could Save Your Life
Professors lead cushy lives. They get to stroll the grounds of stately, ivy-covered campuses, tailed by flocks of eager students who revere them as intellectual giants. Or so I'd always thought.
Then I met Susan. Susan is a smart, highly educated professor. She lives in the Tacoma area where she works hard preparing lessons, grading papers and quizzes, and faithfully responding to every student inquiry.  Students praise her teaching skills.
But none of these things matter to her employer.  Despite high performance reviews, Susan never knows if she will see another paycheck.  Unlike the tenured academics who enjoy secure jobs, steady pay, sick leave and good health benefits at many traditional universities, Susan is a so-called "adjunct professor" with a for profit corporation that runs an online university. She is paid a low hourly wage and her income fluctuates quite a bit from month to month.  She receives no benefits, or sick days. Her name has been changed to protect her innocence.
Susan's employer does not know that a few months ago, she was diagnosed with cancer. Out of sheer determination, she managed her class load and met her academic responsibilities, as she went through surgery and chemotherapy to save her life.
The worst is over, thank goodness.  Her doctors are optimistic she is cured, and her medical bills are fully paid.  "The Affordable Care Act literally saved my life. I could not have paid for all of this care had I been diagnosed with cancer a few years ago, when I was working as an uninsured adjunct professor."
Yet Susan lives in fear that if her employer gets any inkling of her cancer, she will lose her job.
Fortunately for Susan, and the rest of us, our new health law grants Americans the opportunity to sign up for affordable health coverage. And that is peace of mind nobody can take away.
Open enrollment starts November 1st  
YOU can sign up for affordable health insurance at:  
waHealthplanfinder.org  or  Healthcare.Gov