#PaidLeaveWA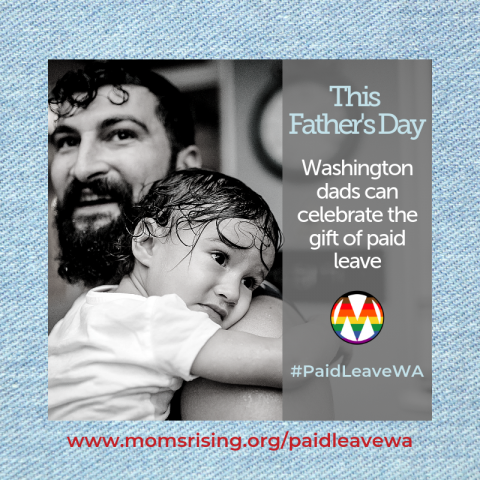 This Father's Day, WA Dads Can Celebrate The Gift of Paid Leave
Paid leave is not just for moms. Yet, dads take leave a lot less than moms. Even when dads have access to paid family leave through their employer, they often feel social pressure to leave the benefit on the table. Seventy percent of dads only take 10 days or less of paid leave. According to one study, over one half of dads in low-income job said they took zero weeks of paid leave from work to welcome a new child through birth or adoption. Women currently are the primary breadwinner for ⅔ of families with children, but often the parents who stop working to care for children. More than ever, dads want to be active in their families' lives as caregivers too, but still fear negative career consequences for taking paid family and medical leave.
We all know dads want to raise healthy children who have great opportunities. They want to support their partners in achieving their dreams and career goals. And paid family and medical leave helps make this possible. With access to paid leave benefits beginning in January 2020, we have work to do to end the stigmatization of dads who provide care, especially when their families need it the most.
Gay dads face a number of additional barriers to paid leave.The costs for adoption and or surrogacy are high for LGBT parents, making it hard for them to take unpaid time off of work. And the first weeks of a foster placement and or adoption are crucial for parent and child bonding, so paid leave for all foster and adoptive parents is essential. Our culture promotes stale heterosexist gender norms that seriously lag behind what families need.
Outdated gender norms limit the scope of strong fatherhood to being a financial provider alone.
Luckily, Washingtonians will have paid family and medical leave in 2020! Can we get a hurrah?! Washington dads will soon be able to take 12 weeks of paid family leave to bond with a new child after birth, adoption, or foster placement or to care for a seriously sick spouse, domestic partner, child (including adult children), parent, sibling, grandchild, or grandparent.
Taking just two weeks of paternity leave increases a dad's confidence and capacity for caregiving even 9 months after birth. Good thing Washington has 12 weeks! And when dads take longer paternity leaves it results in higher test scores for their children and boosted social emotional development through early bonding. Even better, dads taking in leave first 6 months of a child's life means moms are less stressed and increases the sleep quality for both mom and baby. What's more, an even distribution of household labor in heterosexual families reduces stress for moms and makes it possible for working moms to get back to work sooner, if they choose to do so.
Let's reduce barriers and shift our culture to make it possible for dads to time to be there for their families. More dads taking paid leave boosts strong, healthier, more financially secure families and a more equitable society. Happy Father's Day, dads!
Resources:
WASHINGTON's Paid Family & Medical Leave Program site