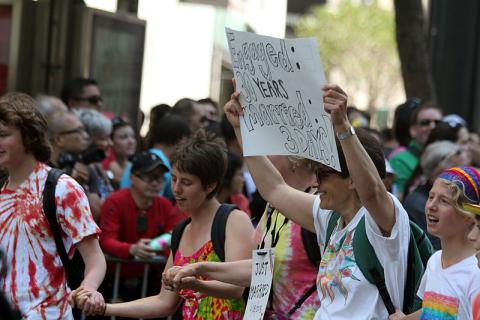 The Unfair Price: Poverty in the LGBT Community
This post, authored by Laura E. Durso and Ineke Mushovic, originally appeared on TalkPoverty.org. The LGBT community experiences high rates of poverty, supported by anti-LGBT laws that limit economic opportunities. TalkPoverty.org is dedicated to demonstrating that we know how to dramatically reduce poverty; we just need to build the political will. Make sure to like TalkPoverty on Facebook and follow us on Twitter!
Two weeks ago, the U.S. Census Bureau released updated poverty numbers for 2013. You probably already know the depressing story – poverty rates remained relatively unchanged across the country; the rate of poverty for children dropped by two percentage points, but still nearly one-in-five American children lives in poverty.
What you may not know is what the numbers look like for LGBT Americans. Our latest report, Paying an Unfair Price: The Financial Penalty for Being LGBT in America, examines how anti-LGBT laws drive economic insecurity for LGBT people, including higher rates of poverty.
LGBT people disproportionately struggle with poverty. Twenty percent of LGBT people living alone have annual incomes of less than $12,000 compared to 17% of non-LGBT people living alone. Transgender people are four times more likely to have incomes under $10,000 per year than the general population despite having higher rates of education.
There is a clear connection between economic insecurity and anti-LGBT laws. Nineteen states lack almost any form of legal protections for LGBT people, and that has a real, tangible economic impact. When a gay or lesbian worker can be fired legally in 29 states; when a transgender person can be denied comprehensive health insurance in 42 states; or when a lesbian couple can be evicted in 29 states—the economic toll adds up.
All LGBT Americans are affected in one way or another, but the impact of these penalties is felt most acutely by those who are most vulnerable: LGBT families with children; older same-sex couples; and LGBT people and families who are already living near or below the poverty line, including a disproportionate number of LGBT people of color and LGBT people living in rural communities.
When LGBT people are already poor, they have no ability to absorb these financial penalties. For example, a transgender person in a state lacking housing protections can be evicted without cause or warning. She then finds herself unable to piece together a security deposit for a new apartment or to afford a more expensive apartment leased by a landlord who doesn't discriminate.
Struggling LGBT people also lack the financial resources needed to secure legal protections for themselves and their families. For example, a second-parent adoption—which allows a non-biological parent to be recognized as a parent—can cost more than $2,000. For a poor lesbian couple, this expense is too much to bear. Without a legal tie between parent and child, the couple is left to simply hope for the best, a potentially devastating situation should the legal parent die.
Our report includes a number of stories that show the devastating effect of discrimination.  But we also need more data about poverty in the LGBT community if we are to improve the economic security of all people living in the United States. LGBT people were absent in the released U.S. Census poverty numbers, although it is indeed possible to examine data on same-sex couples, as our research and research by others have shown. As for single LGBT people—since the Census doesn't ask about sexual orientation or gender identity—researchers cannot track their poverty rates. Government surveys need to be modernized to include gender identity and sexual orientation in order to fully understand the scope of poverty and find the most effective policy solutions.
It is time to put an end to the financial penalties that LGBT Americans face simply because they are LGBT. Policymakers at the local, state, and federal levels need to update laws to prohibit discrimination against LGBT people in areas ranging from hiring to housing to credit. Policymakers also need to update the legal definitions and regulations of "family" so that LGBT families have access to the same protections and benefits that are available to other families.
Our policy responses to poverty in America are destined to fall short if they fail to address the economic experiences of LGBT families and individuals.
Laura E. Durso is Director of the LGBT Research and Communications Project at American Progress.
Ineke Mushovic is executive director of the Movement Advancement Project.