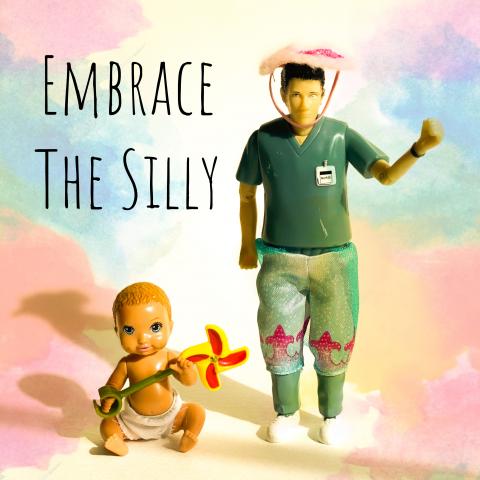 The funniest line I ever heard came from the deadpan mouth of a mother standing over her dying daughter. I had just walked in to the girl's hospital room to help her nurse that day when the mother remarked in my direction: "Oh, I see you have a woody and poo on your shirt too." She was referring to the two patches I had sewn to my nurse scrubs: A classic Winnie The Pooh holding a honey pot and Woody from Toy Story. My nurse colleague whipped her head around, fully expecting the worst from this young male nurse until she too, was in on the joke. It was an unexpected quip from a mom who certainly had nothing to laugh about, but there she was, making a perfectly on point joke.
At that moment, I was too busy examining my shirt and pants to fully share in the laugh. Years later, when I too was well initiated to the trials and tribulations of parenthood, I could appreciate that mother's joke for what it truly was: a hail mary, a life-line, a desperate attempt to dispel just a small part of the misery she must have been experiencing. 
With my own two children who seem uniquely manufactured to penetrate my patience on an hourly basis, I am often unable to find the humor in life or even control my temper. It is the cruel fate of a dad whose kid's antics assault me on a near genetic level to become accustomed to routinely losing my cool. You would never guess it by looking at these two little jokers—they are such cute and gorgeous kids—but I swear they are out to get me or, at the very least, make me routinely feel like a jerk.
There are moments, though, when I break through the feelings of anger and frustration that are routine to raising kids both sick and healthy. In these times, I find myself in an entirely new place—a silly place. When I am able to summon this state, I am a much better father. I am able to find joy in the hard times when they invariably show up because I feel like I am in on the joke, rather than just the butt of it.
I learned how to reset in this way from the parents I have spent time with in the hospital. Their enviable ingenuity has shaped the type of father I am. Even before I had kids, I took mental notes of the effective parenting techniques to emulate and those best to avoid. I have marveled how one particular mother engaged with her very sick boy in a physical and playful way. Instead of reacting to his fear and stress by meeting it with her own she showed him an entirely different path. Whenever her son was in pain or began to scream in fear, she drew his thin body close to hers. With her face pressed lightly against his cheek, she whispered deliciously, sweet words into his ear. She pulled playfully at his toes, each which had a name, until he was once again giggling and smiling. I didn't always understand what she was saying to him, but her sing-songy Mexican accent always calmed me as well. Most likely, she quieted her own inner turmoil too. It was a calming tool for both mother and child. Her son, beyond all expectations, is alive and healthy today. It was his mom's calm and patient demeanor that helped to keep him happy and hopeful until our therapies finally worked.
This silly place is not a parenting panacea. It will not disappear away the many annoyances routine to modern family life. Most sadly, it will not bring a dying child back to full health. It will provide some relief though, and usually at a time when that relief is most necessary. When times are darkest, every smile and every laugh reminds us of the joy there can be in living. Even when a life is close to ending, laughter can play a part.
A few years ago, Angelo, a three-year-old boy who I knew well was in the last hours of his life. His entire family stood around his bed, with all their strengths and eccentricities laid bare, waiting for something to happen. His mother, Dana, who was 38 weeks pregnant with a sister Angelo would never meet, held him tightly to her belly. Between weak inspirations, his tiny body would relax, motionless and silent for what felt like an eternity. At one such time, Kate, the calm and present nurse caring for him, gingerly put her stethoscope to his chest to listen for his heartbeat; to see if he had died. Just as she paused to listen to him—holding her own breath—Angelo took a giant gasping inhalation. Kate jumped back in surprise, vocalized a surprised yelp, and everybody in the room including Dana began laughing. Angelo had played his last trick on his last nurse. 
"You just scared your nurse, Angelo!" Dana was smiling through heavy tears. "Just let go, Angelo, come on son, please let go." 
Soon after, Angelo left this world, but he left a smile in his wake.
David has worked as a pediatric oncology nurse at UCSF for 13 years. Over that time, he has worked with thousands of parents and their children. His intimate interactions with these families often occur in the setting of extreme duress, heartache, and celebration. These intense moments have taught him how to be a parent in the hardest of times and have also shown him what it means to be a parent in the best of times.
His upcoming book, Nurse Papa - 16 Meditations On Parenthood From A Pediatric Oncology Nurse, will be released later this year. Nurse Papa is a prescriptive and heartwarming book written from the perspective of a pediatric oncology nurse who is also a father. The stories within are directed at parents and those without children who are looking to ask and answer some of life's big questions. You will laugh, you will cry, and you will learn about yourself.