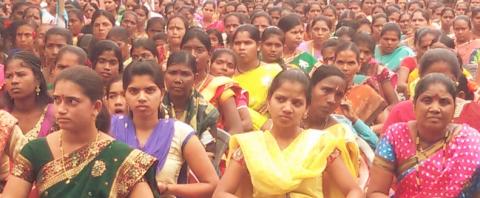 The Power of Being Together: We Won't Wait 2016
There's nothing quite like being together in person.
The opportunity to put aside the practice of tracking likes and clicks in favor of tuning into a feeling and noting another person's expression. When we are together in person, different questions arise - "Are we really united?", "Do we value each other?", "Is she comfortable here?" - and these are the right questions. 
I was reminded of the value of being together - in person, not on paper - during last week's We Won't Wait Summit gathering near Washington, DC.  Together, nearly 1,200 women from around the country gathered to issue a firm and clear demand: We won't wait for the social, economic and health justice we deserve as women, women of color and young women in this society.  It was imazing and impactful - be sure to read The Washington Post's story about it!  
But there's another layer that isn't easily uncovered by the facts of the gathering alone. 
Supporters from MomsRising and ten other organizations*, sat shoulder and shoulder to listen to the stories of those among us and remind ourselves of what we could do if we work together across race, geography, and language barriers. 
We are the change!

¡Si se puede! 
This experience immediately reminded me of a time many years ago when I often sat for hours on the ground under a canvas tent, shoulder-to-shoulder with women activists in India. The women of Shramik Elgar, Vidhayak Sansad, and the Self Employed Women's Association. I missed the smell of jasmine in the women's hair but the feeling of being together, working together, sharing our sorrows and our dreams, felt the same at the We Won't Wait gathering last week. 
I went and worked in India precisely to learn how people fuel a movement, not technology. Although it was early in my career as an advocate, I could sense that technology may overtake us and the true energy and power we posess independently and together. And as I sat among our 1,000+ group in suburban Maryland, I thought, "My Indian friends will be so happy to know that Americans are finally becoming more like them." And I smiled. 
Buses, planes and trains have scattered the We Won't Wait participants in body but I doubt in spirit. Zindabad, my sisters!
The We Won't Wait collaborating organizations include: Make It Work, National Domestic Worker's Alliance, Caring Across Generations, Family Values at Work, MomsRising, Foward Together, ROC United, Ms. Foundation for Women, and the Black Women's Roundable.