We Are MomsRising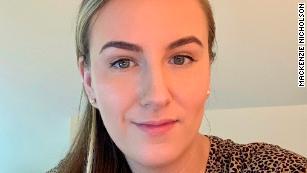 The one question I wasn't asked during 30 job interviews
#WeAreMomsRising uses personal stories to showcase what it means to be a mom, a woman, a family member in America. 
Today's #WeAreMomsRising story is an excerpt from The one question I wasn't asked during 30 job interviews, a powerful opinion piece written by MomsRising member MacKenzie Nicholson and published on CNN.com
---
(CNN) Between July 2020 and April 2021, I applied for more than 30 positions, had dozens of interviews and nearly made it past the finish line a handful of times. During each interview, I would sit anxiously in front of the screen and camera, hoping that the kids would uphold their end of their deal to be quiet and not come into my home office.
I would quickly mute myself at the sounds of them fighting over snacks and toys, praying that no one could hear them. Despite the best planning, a few interviews ended with the kids on my lap, waving and making faces at the interviewers.
As the pandemic started unfolding around the world last spring, I stood in my kitchen, worrying if I would be able to hold it all together as I read an email from my son's school that said they were closing for the rest of the week. Before we knew it, my husband was furloughed, my son was in remote school indefinitely, and my daughter's child care shuttered.
I did what any mom would do: I adapted. We settled into the new routine of balancing school, work, Zoom meetings and life in quarantine, and then, in June, my world turned upside down again: I was laid off.
Read the rest of MacKenzie's story here.
---
Personal experiences are powerful and can make a HUGE difference in helping our communities and elected leaders understand how public policies impact families. Share YOUR story here.