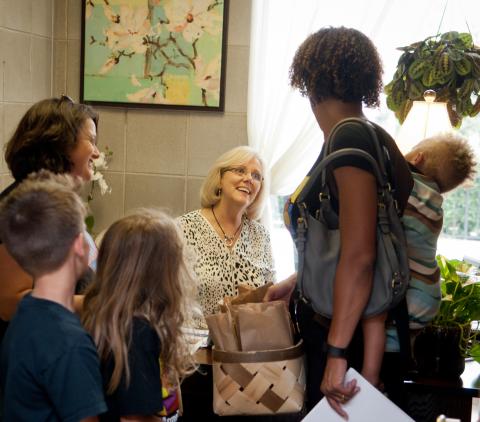 The phones in Congressional Offices are ringing off the hook these days. Some Americans are calling their Representative and Senators for the first time. Some of us are calling more frequently. People are crowding into public meetings. Letters, postcards and faxes are being sent. It is all enough to swell the hearts of America's high school government teachers with joy! It's exciting. We should be engaged with our policy makers and we should keep it up
.
But soon enough we might be wondering what impact we are having and what, if anything, we are accomplishing. It is easy to get discouraged when the vote you called about didn't go the way you hoped. It is also easy to get complacent when your representative is mostly voting as you wished. Those short-term tallies—even the victories – might not be the change we need. Instead, what if we were working long-term to build champions for our children?
In my experience as a mom of children who have special health care needs, a club full of the coolest people you would ever hope to meet, I have found that most Americans don't understand how systems, services and policy impact those with disabilities and chronic health care needs until it directly affects them or their families. The complexities of eligibility, need, wait list and critical services is not covered in the standard prenatal reading. And, frankly, that is okay for many of us. But the "most Americans" who don't understands includes our policy makers, and that creates a serious problem. Those tasked with designing, implementing, funding and reforming health care and related systems often don't have the deep experiential knowledge of the children and families who are its end users. They and other children depend upon the adults in their lives – and upon the officials those adults elect – to make decisions on their behalf. Issues impacting our country's children seldom receive the attention they deserve.
Bridging the gap between rhetoric and reality is the real work of engagement with policy makers. We must work continuously to build their understanding of what is critically needed and why. We must make our champions. And it is possible. Sarah Kliff's February 17th
VOX article
relays the story of how Brenda Neubauer used letters, visits and conversations with former North Dakota Sen. Byron Dorgan to transform him from a legislator with no knowledge about lifetime caps of coverage to a true champion for removing them. Similarly, the legendary story of Iowa mom Julie Beckett sharing the needs of her daughter Katie with Senator Chuck Grassley led to the creation of Medicaid Waivers. 
These examples are not exceptions; they are illustrations of the reality that the only way to build champions is through long-term, persistent communication. We must not cease; we must share the lived realities of systems and services and needs, and we must provide the education and understanding that allows our elected representatives to create policies that work for real families. What Congress needs – what America's children, particularly those with disabilities and complex health care issues, need – is a legislative champion (or, better, champions) who can guard their interests against short-sighted budget cuts, misguided regulatory reforms and ill-conceived policy shifts. Most importantly, America's children need voters to communicate to their elected officials that these children and their futures should be the legislature's top priority. We as parents, as voters, as citizens need to ensure that these issues become a major part of the national discussion, and that our representatives recognize the importance of protecting children and their interests. Our children deserve legislators who understand the issues that impact them and their futures and who are willing to stand up for them in the halls and on the floor of Congress.