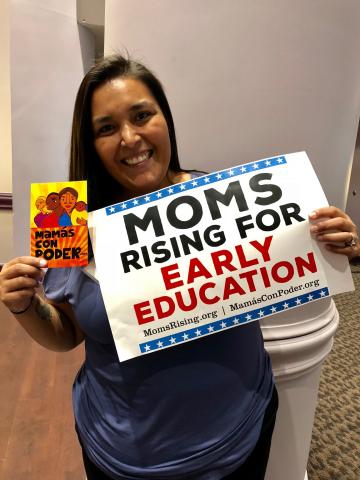 The Latinx Childcare Struggle Is Real
As Latinx parents raising multicultural kids we know the challenges too well. Do we speak Spanish at home with our kids? How do we keep our kids from rejecting our cultural traditions (do we even care about these traditions...)? Where do we find books and toys that are representative of our various communities? The list is never ending.
But what if I told you access to high-quality, affordable childcare was another challenge that uniquely impacts Latinx parents?
Well, it's true. Right now, 42% of Latinx kids live in childcare deserts - areas with overfull or no childcare centers available. And with childcare costs rivaling college tuition, it's no surprise that the cost for families in our communities is prohibitive for those who can find care in the first place. According to one study published last year, Latino families spend the highest percentage of their income on full-time center based care compared to any other group - almost double the recommended maximum cost. The. Highest. ¡Esto es el colmo!
These costs may bring up our collective blood pressure, especially for those parents who don't have abuelitos and other extended family to help with care, but it's not just the cost. We need to pay attention because Latinx communities stand to gain a lot from increased access to high-quality childcare.
How we feed our babies minds is just as important as how we feed their tummies. And like any good meal, a growing body of research shows that the ingredients we put into the classroom or care environment greatly determines the development of our children. We know that children who have high-quality early learning experiences are more likely to succeed in school, graduate from high school, gain stable employment, and are less likely to be arrested later in life. Studies have also gone as far to show that Latinx preschoolers who get culturally tailored instruction have test scores above the national average. That's huge! And when dual language learners (the majority of who speak Spanish at home) attend high-quality preschool programs, they experience greater gains in their emergent English abilities relative to their English-only counterparts. It couldn't be any clearer - Latinx communities have a huge stake in early education and care.
But we know that niño que no llora, no come. We need to come together to urge our elected leaders to prioritize high-quality, affordable childcare. Thankfully, there is already a bright spot on the horizon!
The Child Care for Working Families Act is a comprehensive solution that would expand access to affordable, high-quality childcare for families while improving compensation and training for the childcare workforce. If passed, it would:
Lower childcare costs for low-income and middle-income families to no more than 7% of a family's household income through a sliding scale, regardless of how many children they have.

Significantly improve compensation and training for the childcare workforce (currently one of the lowest paid professions and many of whom are Latinas) to ensure that our nation's teachers and caregivers have the support they need. Including providing training on engaging parents and families in culturally and linguistically appropriate ways.

Assist parents in selecting the childcare provider of their choice—whether that be a center or family childcare home, friend, relative or neighbor. In addition, improve care during non-traditional hours to help meet the needs of working families.

Support universal access to high-quality preschool programs for all low- and middle-income 3 and 4 year-olds.

Support for more inclusive, high-quality childcare providers and centers for dual language learners.

Help all Head Start programs meet new expanded duration requirements and provide full-day, full-year programming and for Migrant Head Start to extend their hours.
I know this legislation will help my niñita have a brighter future and I'm ready to fight for it.