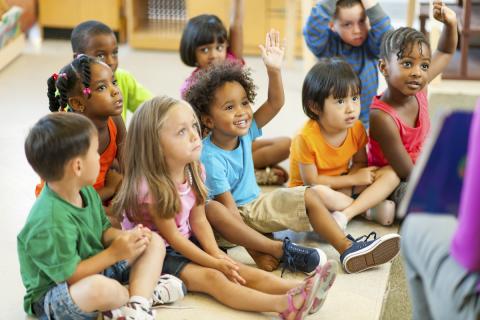 The Importance of a High Quality Preschool
As parents, we try to do the best for our children. We want them to be happy, healthy, successful and more. For me, quality education is a huge priority for my son Tommy. So when it was time to find the right preschool for him, I did not take the task lightly.
I'm lucky to work part-time for Great Start Collaborative-Oakland (GSCO). GSCO is an organization specializing in services for children from birth to age 8. Through my work, I have been fortunate to learn so much about early childhood development, including how incredibly important two years of preschool are for kindergarten readiness.
When it was time to look for a preschool, I utilized a local Michigan website I learned about through GSCO called Great Start To Quality. This resource helps parents find the best early learning settings for their children. The site defines what high quality means.
High quality programs demonstrate the following characteristics:
·      Teachers and staff have education and specialized training that focuses on child development and early childhood education.
·      A strong partnership between families and program staff where information is shared regularly about each child's growth and development.
·      Culturally competent care that promotes acceptance, respect, and understanding of diversity within children and families through the inclusion and celebration of all home cultures.
·      Lower teacher / child ratios to promote individualized care and positive relationships with caregivers.  
·      Ongoing observation and tracking of children's development to ensure that they are growing and learning, which also serves as a basis for planning, both for daily experiences and as a continuum for learning and development.
·      Opportunities for children to connect with their community through partnerships with other organizations.
Unfortunately, for too many families across the nation, high-quality preschool opportunities like this are out of reach because of cost and availability. We need policies to support children and families and ensure that every child has every opportunity to be ready and successful in school and life. Programs that demonstrate high quality care create a safe place for children to learn and explore their world, develop and build the skills needed to get along with others and succeed in school and life.
Programs like these are so important, and I'm happy to report that I'm thrilled with the high quality preschool Tommy attends!
Tommy started in the "Sunshine Club" preschool program at Avery School in Berkley, MI in September 2015. The program follows the HighScope Curriculum.
The HighScope Curriculum utilizes active participatory learning. The HighScope website states: "Children and adults learn best through hands-on experiences with people, materials, events and ideas. That principle - validated by decades of research - is the basis of HighScope's approach to teaching and learning."
Tommy and his classmates follow a consistent routine. They "plan," "do" and "review" their activities. This simply means that decide where they want to play, who they want to play with and talk about their "plans" for the day. Then they have their play time. And then finally they "review" by talking about what they did that day at school.
This curriculum works. Tommy has grown and flourished since he started in September 2015! I cannot say enough about this program, this school district and this curriculum. As an added bonus, the tuition is very cost-efficient!
High quality preschool makes a difference!