Take Action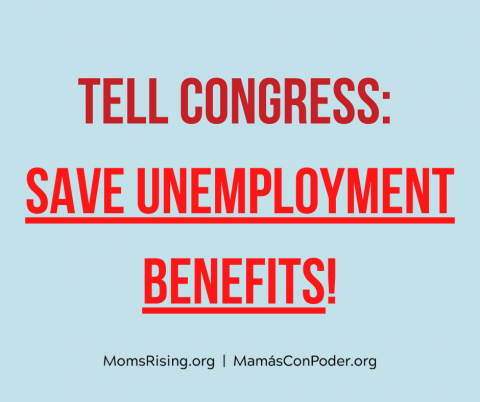 The GOP wants to cut off unemployment! TAKE ACTION NOW!
Talk about fake news—the Republican governors of 22 states (and counting) have outrageously decided to stop federal unemployment payments to unemployed workers, citing the false idea that the economy is "roaring back" and people are staying home for no good reason.[1]
As if! (And we wish!!)
We know this Republican talking point isn't true and that the pandemic crisis is far from over. In fact, in the latest data on job openings, there were nearly 40% more unemployed workers than job openings overall, and more than 80% more unemployed workers than job openings in the leisure and hospitality sector. [2] Taking away a $300/month bump in unemployment benefits will only serve to harm struggling families and our economy.
***SIGN OUR LETTER NOW to call on Congress to protect unemployed workers and continue increased and expanded benefits for struggling families!
Here's what's going on: Republican governors in 22 states have cruelly (and ridiculously) decided to end the $300/month boost in federal unemployment benefits, as well as end the expanded eligibility for federal benefits that covered workers normally left out of the unemployment program, a decision that will disproportionately harm women and people of color; as it also harms our economy. To be clear—these benefits weren't costing the states a dime and not only lift families but are key economic stimulus funds. All the funding for the program came from the federal government and was already passed in the last COVID package.
At risk here is the unemployment benefits of more than 3.5 million workers, costing the economy tens of billions of lost dollars! [3]
The reality is the economy is in a period of adjustment – you don't just flip a switch and everything goes back to normal.  There will be fits and starts as the economy reopens and we shouldn't make rash and draconian decisions that will have long-term consequences for struggling families and businesses. The US economy is still down more than 8 million jobs since pre-pandemic. And women, especially those of childbearing age, continue to be forced out of the workforce in record numbers. [4]
Our families need unemployment benefits to make ends meet! SIGN our letter now and tell Congress to take immediate action to save Unemployment Insurance (UI)!
We've heard from tens of thousands of MomsRising members and the reasons they have not returned to work is because their job are no longer available or the jobs available are not good ones (with living wages and benefits) or are unsafe or they still have caretaking responsibilities with childcare centers and schools still closed….or some combination of all of these things.
This pandemic has been rough on moms, with compounded health and economic harms experienced by moms of color—in the past year, 32% of women aged 25-34 were pushed out of the labor force due to a lack of childcare, proving how essential a strong care infrastructure is to the U.S. job market. In 2020, more than 2.3 million women lost their jobs —over 600,000 are Black; 618,000 are Latina. [5]
And while things are starting to get better, we are not in a full recovery yet. Far from it. Vaccines only recently became widely available and so many workers are still awaiting full immunity over the next few months. School-age care – both for hybrid and online learning options – is still scarce, making it difficult for parents to find stable work. Childcare relief funding is making its way to providers, but we're still down 1 in 7 childcare jobs since the start of the pandemic – putting parents, especially mothers – in the impossible bind of seeking work without available childcare.
This is all the more reason that our families STILL need strong federal unemployment benefits! The action being taken by Republican governors around the country is harmful to struggling families and our economy!
***Tell your members of Congress: Protect unemployment benefits now! SIGN OUR LETTER!
Until the care economy is robustly funded and fully respected—including paid leave for all, universal childcare, raising the minimum wage, protections for home health workers, and permanent expansion of the Child Tax Credit—then the full economy will not be able to recover because women will still be in a bind and unable to return fully to work.
This is all the more reason why unemployment benefits are so vital.
And there are real consequences to taking away federal unemployment benefits, especially so quickly (many states are saying the benefits will end sometime in June). The National Employment Law Project (NELP) found that benefit cliffs—the abrupt reduction or loss of a public benefit—lead to higher rates of food and housing insecurity, disproportionately affecting families of color the most.
When the extended federal benefit programs were allowed to lapse on December 26, 2020, it shortchanged jobless workers by about $17.6 billion in benefits for the first four weeks in January 2021—38% less than these workers were due to receive. During this time, 72% said they had trouble meeting basic household expenses, and 31% reported not having enough money to pay for food. Around 4.7 million people were behind on rent, and for 4.8 million people (including 1.3 million children) UI benefits were the only thing keeping them out of poverty. [6]
Struggling families have been through enough in the past year—needlessly losing unemployment benefits (again!) will put too many families at risk of hunger, homelessness, and more. After you sign our letter forward this email to your friends and family so they can take action as well. We need to speak out now to prevent any further cut-off of benefits!
Thank you for continuing to speak out on behalf of our families and our economy.
P.S. Are you one of the workers at risk of losing your unemployment benefits? If so, we want to hear from YOU! Share your story with MomsRising here.
[1,3] Business Insider. "3.5 million workers are at risk of losing their unemployment benefits as Republican governors cut pandemic aid." May 18, 2021.
[2] EPI. "U.S. labor shortage? Unlikely. Here's Why." May 4, 2021.
[4] Business Insider. "The April jobs report shows women are still struggling." May 7, 2021.
[5] National Women's Law Center. "A Year of Strength and Loss." , March 2021.
[6] NELP. "Slashing unemployment benefit weeks on jobless rates hurts workers of color."