The Good News About USDA Nutritional Standards
Have you heard about the USDA Nutritional Standards for school lunches? Based on past conversations, many of you pay for your kids to have school lunch and pack lunches from home for special treats. That is why I was happy to hear from my friends at MomsRising that some major changes had been made to school meals for the first time in 15 years.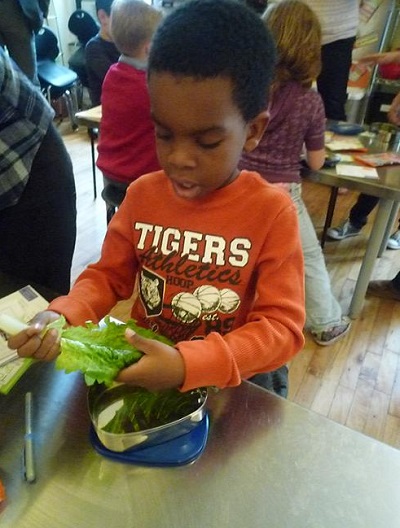 Up until this school year, I would send packed lunches four days a week for the kids and pay for them to have lunch one day a week. They picked Fridays, because they initially liked the school pizza lunches. Not this year though. They informed me that the pizza was frozen, artificial and that they didn't like it, so now I'm packing lunches five days a week (le sigh!)…
Maybe with these new changes, my kids will want to buy school lunch at least one day a week again! Whether they do or do not, it doesn't really matter. I want all kids to have healthy, natural food choices.
You can read more about the new rules at http://www.fns.usda.gov/pressrelease/002312. The two changes that I'm most excited about are the following:
Ensuring students are offered both fruits and vegetables every day of the week
Substantially increasing offerings of whole grain-rich foods
You can click on the image below to see the full image of a before (old guidelines) and after (new guidelines) lunch menu here: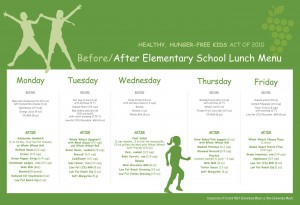 Click to enlarge.
There are definitely advantages to purchasing school lunches. For one thing, it is less expensive. As an example, my family's grocery bill goes up from 20% - 25% during the school year. It is also less work for parents. The school year is an incredibly busy time and if there are healthy options available at school, then that is one less thing that parents need to think about. I don't know about you…but I'm "done" by Friday. I would be so happy for that to be a "free" (as in "I don't need to make it") lunch prep day.
In any event, I appreciate the healthier meal standards for school meals. Nearly 32 million kids eat school meals every day. They deserve the best food options…just like my kids and yours!
This post is part of the National School Lunch Week with Healthy Food! A MomsRising Blog Carnival. Take a moment to read and comment on these thoughtful blogs, then tell us your story. Our stories are powerful and are what led administrators to set these rules in place.