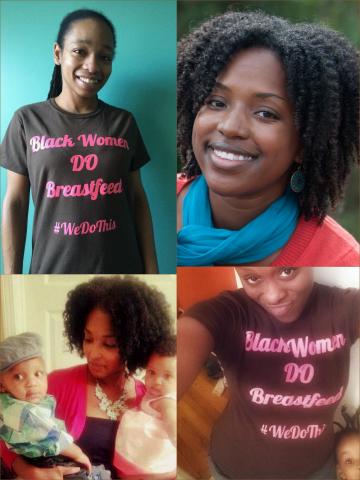 The Facebook page that proved black women do breastfeed
Tell us about Black Women Do Breastfeed (BWDBF) and how it began.
When I had my first child in 2009, I used to turn to the internet to find breastfeeding information and community with other breastfeeding moms. I quickly noticed that there were not many images or stories of modern Black breastfeeding women circulating online. There were a few Black women bloggers discussing breastfeeding among Black women but overall our stories tended to be absent unless they highlighted the racial disparities in US breastfeeding rates. The dominant narrative about Black women and breastfeeding was about how and why we don't initiate breastfeeding or don't breastfeed very long (in the US). While the disparities are real, I felt like this narrative was unbalanced because I kept coming across Black women in my offline life who were breastfeeding, had breastfed or planned to breastfeed. I imagined how a Black woman with little exposure to breastfeeding might conclude that it's not for her if all she ever heard about was how Black women don't breastfeed. I have a background in public health so it occurred to me that in order to help encourage more Black women to breastfeed it was important that we see Black women breastfeeding and hear about their experiences. This inspired me to begin a blog titled "Black Women Do Breastfeed" that featured stories and photos of Black mothers with varying breastfeeding experiences. Subsequently, I started a Facebook page to go along with the blog. In the past year the popularity of the page has pretty much exploded as I've added other moderators to the page and some of the photos shared on the page have gone viral. We share photos and stories that have been submitted to us as well as questions about various breastfeeding issues. We've gained a community of followers who love and support our mission of making the community of Black breastfeeding women visible.
Tell us about an experience you've had that conveys the importance of BWDBF.
I wish I could just name one. We have had women comment about how they have gained confidence in their ability to breastfeed just from hearing about other women's experiences. We hear from women who say that if it weren't for BWDBF they never would have tried to breastfeed or continued to breastfeed as long as they have. There are pregnant women who have shared how excited they were to start breastfeeding because of the stories and pictures they've seen on our site. Finally, we hear from women who say how appreciative they are of the support they get from the page because they don't get that support at home.
What data do you use to show the importance of breastfeeding and the impact of BWDBF?
We show the importance of breastfeeding by sharing the experiences of the mothers who share their stories with us. We officially measure our impact through the statistics provided by Facebook. As of this interview, we have over 63,700 page likes and climbing. We have unofficial qualitative data of lactation professionals telling us that they refer their clients to us regularly.
What is one thing the person reading this can do to support Black Women Do Breastfeed?
Like the page on Facebook to participate respectfully in our online community and to stay up-to-date on our future projects.
What is an area of breastfeeding support that is being overlooked and what should be done about it?
Professional lactation support for the first 6 - 8 postpartum weeks should be more accessible to families. I don't necessarily think that this issue is overlooked as there are organizations out there working hard to provide this service in their communities. Those first 6 - 8 postpartum weeks can be pretty challenging because both mom and baby are learning how to breastfeed. This time is critical in laying the groundwork for a successful breastfeeding relationship. I would love to see standard insurance coverage for postpartum and lactation support services. Unfortunately, we are not yet at a point where our society fully recognizes the need for this type of postpartum care. Women in the US are not even guaranteed paid maternity leave we face pressure to get back to "normal" as quickly as possible after giving birth.
What's your favorite breastfeeding resource (ie, article, blog post, video, website)?
Kellymom.com has been my favorite online breastfeeding resource simply because of the vast amount of researched information provided on that site. My personal breastfeeding journey has benefited from the information I've found there.
This post is part of #BlkBFing Next Door: Local changemakers in the African-American breastfeeding movement shine for Black History Month. Read more posts here.