Today's news about the demise of Twinkie and other Hostess snacks is a complicated story of big business versus labor. But it's also about an unhealthy snack, whose shelf life is rumored to be nonexistent, refusing a makeover.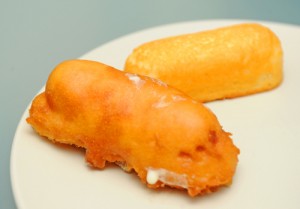 Though most media outlets let CEO Gregory Rayburn write their headlines, Hostess is not simply closing because of striking workers. In the beginning of the year Hostess Brands, which also makes lunchbox snacks like Ding Dongs and Ho Hos filed for Chapter 22, because they'd just emerged from Chapter 11 bankruptcy the previous September. By July, the company's restructuring was an epic and hostile faceoff between two of Wall Street's biggest hedge funds, the Teamsters, a private equity firm and a federal judge acting as referee. So despite Rayburn blaming the company's liquidation on the less than two-week nationwide strike of its 18,500 workers, the story's far more complex.
I'm no marketplace reporter, but I am a mom and my daughter hasn't eaten a Hostess product her entire life. They are a company who seemed to mock healthy trends, sticking to decidedly non-food "snacks" whose chemical profile read more dangerous than what I keep under my sink. Petroleum fermented in Chinese industrial plants, hydrogenated oils and a mystery creamy filling made them a national joke; stunts where they were dropped from the tops of buildings or aged for a decade are as much a part of Twinkie's reputation as any fond childhood memories. My daughter has also never had a slice of Wonder Bread, whose shelf life is extended by stripping wheat flour of anything worthwhile and whose second ingredient is sugar. Bimbo's Bakeries is the largest bakery in America (Hostess, before today, was second), partly because of its line of "Arnold's Breads" who offer everything from whole wheat to a 12-grain loaf. Hostess never seemed too concerned with its largest competitors' move towards healthier recipes, at least not enough to update some of its own.
As much as I'm concerned by this growing trend of CEOs shuttering their businesses and blaming it on workers for various reasons, and even more concerned for the thousands of workers who will face the coming holidays unemployed, I can't say I'll be joining a funeral march for Hostess products. If legends are true, what's on Twinkie fans' shelves today should last them a lifetime.
Image courtesy of Shutterstock.