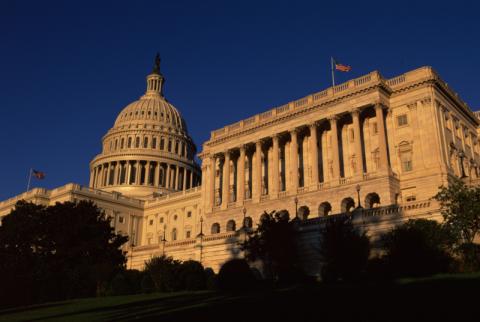 The CHN Human Needs Report: Final spending bills, parental leave for federal workers, ACA's future, and more
The Coalition on Human Needs just released another edition of the Human Needs Report. Read on for the latest on Congress's final FY20 spending bills, a year-end tax package, a big step for paid parental leave, a judge's ruling on the ACA, and more.  
In This Edition
FY20 Spending Bills Passed with Mixed Outcomes for Human Needs Programs
The $1.4 trillion FY20 spending package includes some wins for advocates and the communities they fight for, while other parts of the package left advocates disappointed. Read on for a summary of some of the highs and lows within the legislation by department. READ MORE »
Year-end Tax Package Fails to Help Low-income Families
Advocates were deeply disappointed that a tax package added on to the FY20 spending deal did not include improvements to the Earned Income Tax Credit and the Child Tax Credit. But there is hope for 2020. READ MORE »
Congress Passes Paid Parental Leave and Ban the Box Provisions for Federal Workers
The paid parental leave benefit will apply to roughly 2 million employees, while the Ban the Box provision could help more than 700,000 Americans. READ MORE »
Advocates Oppose Trump Administration Effort to Radically Increase Fees for Aspiring Citizens, Asylum Seekers, and DACA Recipients; Comments Due by Dec. 30
It's the latest attack by the Administration on the immigrant community: a proposal to drastically raise the cost of vital immigration benefits while reducing access to benefits for low-income and other immigrants. READ MORE »
House Vote Boosts Prospects for Immigrant Farmworkers
Undocumented farmworkers and their families could have a path to legal immigration status and citizenship if landmark legislation approved earlier this month by the House becomes law. READ MORE »
5th Circuit Panel Voids ACA Individual Mandate - but not the Law's Protections; Future of Case Uncertain
The ruling raised more questions than it answered, but guarantees that the ACA will remain a potent political issue for some time to come. READ MORE »
Bill to Lower Prescription Drug Costs Passes House
The bill would allow the government to negotiate prescription drug prices and would put a new cap on out-of-pocket prescription drug costs for Medicare beneficiaries. A Senate bill takes a different approach. READ MORE »
House Members Announce They Will Sue USDA over Final Rule to Deny SNAP to Nearly 700,000 Poor People
The rule, which is contrary to the intent of Congress, restricts states' authority to waive the harsh time limit imposed on individuals without dependents. READ MORE »
The Human Needs Report is the regular newsletter on national policy issues affecting low-income and vulnerable populations from the Coalition on Human Needs. Sign up to get the Human Needs Report delivered directly to your inbox, subscribe to our blog, and follow CHN on Facebook and Twitter.