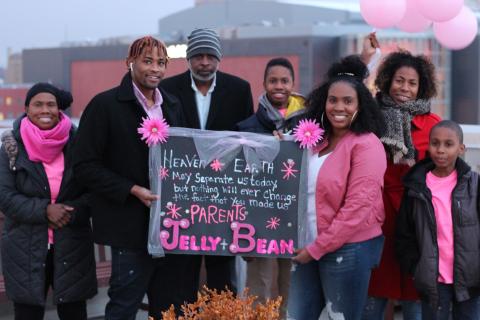 The Birth of Life After 2 Losses: My Birthing Story
My story is not the traditional story of boy meets girl, girl falls in love, they get married and live happily ever after.  Six months prior to me getting pregnant, I decided to end my relationship with my on-again, off-again high school sweetheart.  We were living together for about two years at this point and I just wasn't happy.  We discussed having a family together and not once did it ever happen.  After we broke up and he moved out, I decided to do something for myself.  I bought another dog and I wanted to start a business.  I did some research and then I applied for a 12-week program that offers hands-on training in business planning and management at Rising Tide Capital: The Community Business Academy. 
One day in class, a fellow entrepreneur sat next to me.  We talked about my business idea and guess what? He loved it! He didn't think it was stupid or weird.  He didn't belittle me which was something I was use to towards end of my last relationship.  He told me I should consider making doggie fruit cups.   I thought this was a great idea because my dogs love fruit.  He drew some little notes in my workbook.  I will never forget the feeling I felt. He made me feel like I was in high school again.  I even found myself getting into trouble in class with him for laughing and talking. 
One day he left class early, I found out to celebrate his birthday, which was the following day.  Something else we had in common, was both of our birthdays were in the month of May.  Leading up to my birthday, we had been inseparable.  However, I had not told anyone in my family about him.  On my actual birthday, I told him my family was coming to visit, thinking he may get the hint and leave.  He replied, "Great, should I buy food for everyone?" Up until this point, I had merely been enjoying myself.  The weird thing about it was our connection was so strong, I felt like I knew him for years.  He even joked around calling my newest addition to my family his son because he would accuse me of showing favoritism towards my older dog.  Unbeknownst to the both us we were about to have another addition to our family. 
Imagine both of our surprise when the two lines appeared on the pregnancy test.  It was the 4th of July, 2017 when we found out I was pregnant.  I always wanted to be a mom but I was met with mixed emotions when I saw the positive pregnancy test.  I was shocked, scared, and anxious. I wondered if I would be a good mom and if I was ready as this was not planned.  Many of my worries subsided the first time I saw her on the monitor.  She was so small she reminded me of a jelly bean and from that point on, she became our "Jelly Bean."  My OBGYN said our due date was March 15, 2018. My pregnancy was normal after that.  I went to the OBGYN appointments as scheduled.  I also went to Maternal Fetal Medicine (MFM) for my scans.  One day, after I got out the shower and dried off, I noticed water had started to trickle down, and then a whole gush of water came out.  I called my OBGYN and he met us at Labor and Delivery.  I was given two options, to terminate as without the amniotic fluid her lungs would not develop, or continue with the pregnancy.  We decided to continue and we were counseled on the risk. 
A week later, my temperature began to rise and I started having contractions.  I was told I would need to be induced as the pregnancy had become septic and life threatening.  Jelly Bean came to us at 19.1 weeks on October 18, 2018.  And my gut instinct was right, she was a girl.  It was one of the hardest and most traumatic experiences in my life thus far.  At my post-opt appointment, my OBGYN wanted me to have preconception counseling at Maternal Fetal Medicine (MFM) to make a plan for my next pregnancy.  I secretly booked the appointment and went alone because our first pregnancy was unplanned. 
I eventually told him that I now wanted this more than ever.  And exactly nine months after we lost Jelly Bean, I had a dream I was with her and I was trying to put her in something to keep her safe.  She said, "No, do not worry, I will be back," and then she disappeared in the dream.  I took a pregnancy test that morning and lo and behold, I was pregnant again.  Panic set in almost immediately.  I called my doctor and I demanded to be seen sooner than later due to my history.  I went in and had my scan.  As my scan did not match my last menstrual cycle, one of the OBGYNs in the practice was not quite convinced I was pregnant.  Then the head OBGYN came in and rescanned me and it was determined that I was about 5 weeks with a new due date of March 22, 2019.  My OBGYN and MFM specialist had already decided, prior to me getting pregnant, that I would be monitored closely next time. I saw my OBGYN on a monthly basis for checkups and vaginal swab cultures.  We started cervical lengths at 15 weeks to check for cervical changes bimonthly.  At my 16 weeks' scan, I asked the technician if it was too soon to find out if she was a girl and, lo and behold, she was.  At my 18 weeks' scan, we noticed my cervix began to shorten.  I was scheduled for emergency transvaginal cerclage (TVC).  I thought we were in the clear, but at 22 weeks, I felt a trickle of water.  I called my OBGY and before I received a call back I decided to head into Labor & Delivery.   I attempted to explain that I felt like what happen in my last pregnancy was happening again but I was briefly check and discharged.  I got to the parking lot by my car and the remainder of my water broke mushed out.  This time, I was able to maintain my pregnancy in the antepartum unit.  At 23 weeks, I went into labor and "Valentina Marie" was born on November 15, 2018 and lived for over an hour. 
I thought our plan we made with the doctors was bulletproof.  I did not know it was only an 85% chance that the transvaginal cerclage would get me to 24 weeks.  If I had known that, I would have researched other options.  Before I left the hospital, the Director of MFM and my OBGYN met me at my bedside and told me there was still a chance I could carry my own children in the future.  They also told me prior, they were not 100% sure I had an incompetent cervix, but after having two second-trimester losses, they have now confirmed I do and would be willing to place a transabdominal cerclage (TAC) prior to me getting pregnant again. 
Three months after I lost my second daughter Valentina Marie, I had my TAC placed in March 2019.  Now, I have entered a new stage in my life. Life after two losses and patiently waiting for what God has in store for us. And in the mean time we will continue to make our mark on the world.