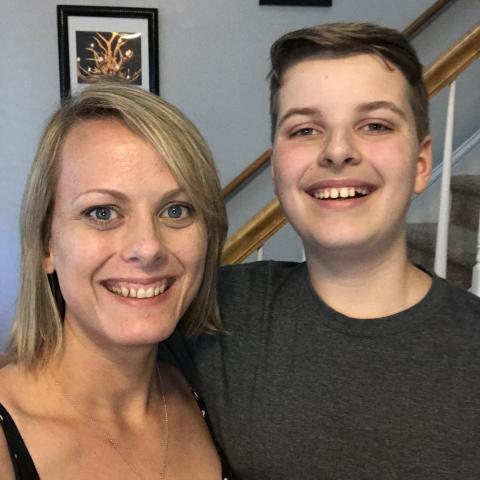 The Affordable Care Act Is For All of Us
Just last week, I took to social media with one of those "My kid is growing up too fast!" posts that we've all seen so many times. But for my son, growing up was far from a foregone conclusion. Ethan is now 12-years-old and stands three inches taller than me, but the only reason he is alive and able to stand on two feet is the miracle of modern medicine. It saved his life, but left our family vulnerable to losing our health coverage if the Trump administration and its allies have their way.
When Ethan was born in 2006, his dad and I quickly learned that he had a vascular tumor on his lower right leg that required chemotherapy. Because he was so small, he had to have an external port placed into his heart to administer the chemo, which had to be monitored constantly to avoid infection. Before Ethan turned one, he'd had three surgeries, been to multiple doctor's appointments every week, and endured multiple rounds of chemotherapy.
Ethan needed constant care, so I had no choice but to quit my job to provide that care. As a result, my family lost our health insurance. We were incredibly fortunate that Ethan qualified for Medicaid and I will forever be grateful that this government-run health insurance program was available when my family was in need. Without it, Ethan most likely would have lost his leg, and possibly his life.
During this time, I had to go uninsured. Not only were we caring for a very sick child, we had no income as Ethan's dad was in law school, so paying for expensive insurance premiums to maintain minimal health care coverage wasn't an option. Once Ethan got better and I started working again, I was unable to find a position that offered health insurance. When I tried to get coverage on the individual market, I quickly discovered that I was now pretty much uninsurable due to the gap in coverage and my "pre-existing conditions" (i.e. a c-section and minor kidney disease). 
That all changed when the Affordable Care Act (ACA) went into effect and I was able to get an affordable plan through my state's marketplace. Now, thanks to the Affordable Care Act, I no longer worry that the pre-existing conditions I have—nor the one my son was born with—could prevent us from getting health insurance.
However, these protections (and so much more) are now under threat, should the Texas v. United States lawsuit succeed. A coalition of states led by Texas is suing to invalidate the entire Affordable Care Act, including the section that bans discrimination against people with pre-existing conditions. And in March, President Trump's Justice Department announced that it agreed that the entire law should be scrapped. 
Should the law be invalidated in its entirety, here is what's at stake by the numbers:
133 million people in the United States have pre-existing conditions that could disqualify them from buying insurance or allow insurers to charge them significantly more for coverage;
21 million people could lose private health coverage;
12 million people could lose Medicaid coverage;
171 million people could face annual or lifetime caps on treatments;
60 million Medicare beneficiaries would face possible premium increases and changes in coverage; and
2 million young adults could lose coverage through their parents' plans.
Source: https://www.nytimes.com/2019/03/26/health/obamacare-trump-health.html
The Affordable Care Act wasn't conceived or enacted to help blue states over red states, or Democrats over Republicans. The protections and expansions of coverage in it are for ALL OF US and if it is invalidated through this lawsuit, all of us—as well as future generations—will suffer terribly.
The Attorneys General in TX, AL, AR, AZ, FL, GA, IN, KS, LA, MS, MO, NE, ND, SC, SD, TN, UT, WV who are bringing this suit, as well as President Trump and Attorney General William Barr need to know that we are watching their attempts to invalidate the ACA. They should know that we are horrified by their utter disregard for the lives their victory could destroy. 
As for Ethan and me? We will continue fighting to protect the gains we've made in expanding access to health care. We will continue this fight until all families in the United States have access to quality, affordable health care coverage.