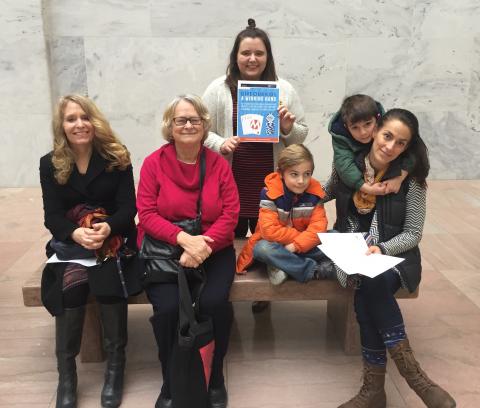 Thank you to all who spoke out for the Children's Health Insurance Program (CHIP)!
They FINALLY did it!
Part of the Continuing Resolution (CR) that Congress passed last week continued funding for the Children's Health Insurance Program (CHIP) for six years. MomsRising members submitted hundreds of letters to the editor, made thousands of phone calls, and sent tens of thousands of signatures to Congress in support of CHIP—THANK YOU to all who spoke out to protect children's health!
While we are relieved that this critical program was finally funded after 114 days, we're horrified that children's health was held onto like a political football by Congressional Republicans in order to pit one group of vulnerable children against another—the DREAMers.
*Quick signature: Tell Congress to follow through on promises made to DREAMers!
Children should never be part of a partisan political fight. DREAMers are young people who were brought to the United States as children. Nearly
800,000 DREAMers
applied for and received critical protections and work authorization under the 2012 Deferred Action for Childhood Arrivals (DACA) program and must be allowed to live, learn, work, and contribute to our communities and our economy.
DREAMers have waited long enough for the stability and security they deserve. The Trump administration and Republican leaders in Congress have chosen to scapegoat immigrant communities rather than recognize that our diversity is what makes our country strong and prosperous, not the opposite. 
We expect better from our leaders and our children certainly deserve more.
*Sign on now! Tell lawmakers to do the right thing by DREAMers and make DREAM legislation a reality.