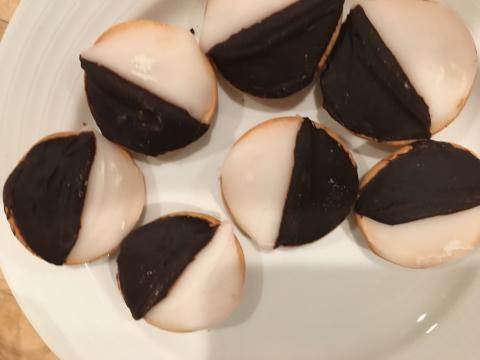 Books have played an outsized role in my life.  As an introverted only child and the daughter of a bookworm, growing up, children's books were my refuge and my joy.  My favorite teacher to this day was my high school English teacher, Mrs. Betty Lou Blumberg, who introduced me to great fiction with exuberance and flair as well as mentored the student literary journal.  I felt most alive as a student in her English classes.
When my first son was born, children's picture books were among my most treasured gifts including a copy of Barbara Cooney's richly illustrated Miss Ruphius which tells the story of Miss Alice Rumphius who makes the world more beautiful by planting lupine seeds around her seaside Maine town despite being dismissed by the people of her town as "That Crazy Old Lady." I read this book to my son over and over as much for my own pleasure as his.
Around the same time, I was in a book club that read Paul Tough's book, How Children Succeed, which among other things discusses how stress affects the developing brain.  While toxic stress is devastating, some manageable stress in duration and intensity helps children develop the resilience they need to bounce back from life's inevitable disappointments and setbacks.  At the time, I remember wondering how I was going to introduce the "right" amount and kind of stress in my son's seemingly comfortable childhood. I naively thought that because he was growing up in more privileged circumstances than I had that I would actually have to manufacture some disappointments for him. Oh how little I knew! Or as my friend Libby would say, it was a junior varsity parenting impulse.
Fast forward to the fall of my son's kindergarten year. This same little boy, who had been an early talking, had an expansive vocabulary, and a curious mind came home with a homemade placemat that he had used his own inventive spelling to write a note saying he'd like a hot dog for his Thanksgiving dinner.  Surprised by his request, I asked him if that's what he was hoping to have. He shared that hot dog seemed easier to spell than turkey. I emailed his teachers thinking it was a matter of doing a few home activities. A reading screening, working with a literacy tutor and a speech pathologist, a summer literacy intensive camp later, we are in the early spring of first grade, and while my son's confidence and progress is growing, he also feels he has had to work so much harder than the majority of his peers to keep up with the demands of his first grade reading and writing curriculum. He sees many of his peers effortlessly reading and even reading above grade level and wonders why he can't do the same.
I have struggled to find a way to talk to my son about how there is a wide gulf between his intelligence, his ability to comprehend complex stories, and creativity among his other capacities and his ability to decode words.  
Earlier this winter, I picked up the first of the Here's Hank early chapter book series Bookmarks Are People Too!  The adventures, daily disappointments and triumphs of Hank Zipzer of the Here's Hank and Hank Zipzer; The Tales of the Most Greatest Underachiever series written by actor Hank Winkler, and loosely based on his own experience of struggling in elementary school in NYC with undiagnosed dyslexia, and his co-author, Lin Oliver, have quickly become our constant companions.  The Hank Zipzer books have tickled my son's funny bones, nourished his love of chapter books and helped him find a character who has normalized his initial encounters with reading.  Our family, including our five year, and two cats, who like a good story as much as any felines can, have devoured both the books and audiobooks read by Henry Winkler himself, whose voice exudes the warmth and personality you know he must possess, and the New York accent I still associate with home. (We have a Brooklyn born and raised grandparent on each side.)
Hank's adventures with his two best friends, Ashley Wong and Frankie Townsend, both of whom flourish in school and sustain Hank in all his struggles to feel seen and successful in a system where most of the adults don't recognize his Zipzer can-do attitude and aptitudes or know how to properly support and nurture his development as a reader or student more globally.  But Hank is so much more than his dyslexia and his uneven academic development.  He is kind, warm, a natural comic and in many ways, wise beyond his years. He stands up to the class bully, Nick "the Tick" McKelty, on behalf of the kindergartener and his peers with similar learning differences. He charms Ralph of Ralph's Reptile Show to put on a show at his little sister, Emily's seventh birthday party, despite the fact that his parents can't afford Ralph's fee.  Even though he and Emily are typically at odds, he knows a live reptile show at her birthday party is the thing she desires most in the world.  While Hank has to contend with his homework and crossword puzzle-obsessed father, buffoon of a principal, Mr. Love, and punitive teacher, Ms. Adolf, he is buoyed by his dill pickle and black and white cookie loving, maternal grandfather, Papa Pete, who truly sees Hank and unconditionally loves and believes in him.
Thank you, Hank Zipzer, for coming into our family's life just when we needed you.  Thank you, Henry Winkler for sharing your own struggles through Hank. My son and all children, typical and struggling readers alike, as well as parents and educators, need to see three-dimensional characters with learning differences and attention issues with their own unique challenges, talents, and aptitudes, struggling and flourishing.
Reflecting back on my earlier book club, I realize what a mistake it was to import my own story or early experiences with reading on either of my sons.  We are also incredibly fortunate that my son is receiving high-quality, evidence-based reading instruction and has nurturing teachers.  Like Alice Rumphius and Hank Zipzer, both of whom possess an inner light and determination, I know my son will do something to make the world more beautiful one day and already does.  From helping my arthritic mother negotiate tricky stairs to coaxing his five-year-old brother from a bad mood to a smile to the many ways he applies his inventive and introspective mind, he is making the world more beautiful, enriching my life and that of others around him and constantly challenging my perspective. I realize what started out as a fan letter to Henry Winkler and Lin Oliver is as much a love letter to my ripstick riding, imaginative son.
p.s. - We recently realized that we missed Henry Winkler and Lin Oliver's winter 2019 book tour. My children have made clear they will take a train, plane or car to meet Winkler and Oliver in-person to have them sign all their Here's Hank and Hank Zipzer: the World's Greatest Underachiever books. We will bring black and white cookies.  Root beer floats. You name it!
p.p.s. – We hope there was a real Papa Pete figure in Henry Winkler's childhood.
Additional Resources that offer trusted information, perspective and community to parents –not an exhaustive list!
The Reading League including their youtube.com channel
APM Reporter Emily Hanford's trilogy of podcasts and articles on how reading is being taught in schools and the science of reading
The International Dyslexia Association
The National Center for Improving Literacy
Understood for Learning and Attention Issues including their new In It a podcast for and about families of kids with learning and attention issues.
The Yale Center for Creativity and Dyslexia
Identifying and Reinforcing Islands of Competence in Children with Special Needs, Robert Brooks, Ph.D.
Parental Readiness and Empowerment Program - PREP provides parents with information about education laws, policies and procedures on its website and through public workshops. Volunteer lawyers and advocates offer support and advice to parents through their educational consultation clinics.
Your local Decoding Dyslexia Chapter
Books
Understanding Learning and Related Disabilities: Inconvenient Brains, Dr. Martha Bridge Denckla
Raising Human Beings: Creating a Collaborative Partnership with Your Child, Ross W. Greene Ph.D.
Differently Wired: Raising an Exceptional Child in a Conventional World, Deborah Reber
What Your ADHD Child Wishes You Knew: Working Together to Empower Kids for Success in School and Life, Dr. Sharon Saline
Overcoming Dyslexia:  A New and Complete Science-Based Program for Reading Problems at Any Level, Sally Shaywitz, M.D.
Language at the Speed of Sight: How We Read, Why So Many Can''t, and What Can Be Done About It, Mark Seidenberg
The Self-Driven Child: The Science and Sense of Giving Your Kids More Control Over Their Lives, William Stixrud PhD, Ned Johnson