Thank you for Increasing Access to Medi-Cal, Governor Brown!
California has the largest number of uninsured residents in the country.
According to the California HealthCare Foundation, 7.1 million Californians now have no insurance.  This comes at a time when more California businesses are cutting health benefits for employees and the costs for private health coverage continues to rise.
Now, for the good news!
Recently, Governor Brown and the California legislature took taken action to reduce this staggering number of uninsured.
On June 27, Governor Brown signed bills that will help provide health coverage to approximately 1.4 million people in California by increasing access to the state's Medi-Cal coverage.
Even better, for the first three years, the costs of this expansion is entirely paid by federal funds set aside for states as part of the Affordable Care Act.
To recognize this important milestone, MomsRising collected over 2,000 signatures from Californians who wanted to thank Governor Brown for his leadership in protecting the health of Californians.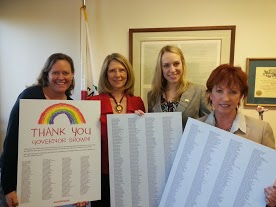 Last week, I delivered an over-sized Thank You card with all of these signatures to Governor Brown's Health and Human Services  Secretary Diana Dooley.  I was joined by Stephanie Hodson and Kathleen Hamilton, representatives from MomsRising partner organizations, The Children's Partnership and the United Ways of California.
During our visit, Secretary Dooley graciously welcome us and expressed her appreciation for all that MomsRising members and our partner organizations are doing to connect families to coverage.  Every conversation at a family gathering,  post on Facebook or flier shared will help us spread the word about how families get health coverage.
To find out if you or someone you know is eligible for Medi-Cal coverage, go to CoveredCA.com to get started.  Californians can enroll now for coverage that begins January 1, 2014.
If you or someone you know will have access to Medi-Cal as a result of this expanded access, we'd love to hear about it!  Email us at healthbeat@momsrising.org