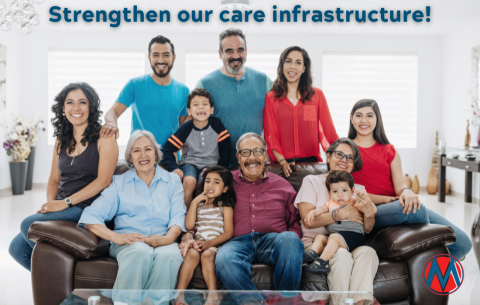 Thank Biden for his Executive Order to improve care!
Need a change from the drip drip of bad news coming out of DC? Drum roll please... We are excited to share some fantastic, spectacular, very good news with you! Yesterday, in response to your continuing calls to strengthen the nation's care infrastructure, President Biden announced the most sweeping set of executive actions to improve care that we've ever seen (and in recorded history)! Woot!
Proving the power of your voice, and our movement together, our very own MomsRising Executive Director was invited by the White House to stand by President Biden's side as he signed the Care Executive Order. [1] Your voice, your persistence is powerful. Thank you!
*Now, let's keep up the MOMentum for child care, elder and disability care, paid family and medical leave, and a strong care infrastructure by thanking President Biden for these executive actions and urging Congress to finish the job!
What's the good news?
Yesterday, the Biden/Harris administration issued a bold, transformative, and badly needed Executive Order to improve our nation's care infrastructure. At a time when millions of families cannot access or afford the child care, elder care, and/or disability care we need, these measures will support moms, family caregivers, care workers, businesses, communities, and our economy. The Executive Order puts the full weight of our federal government behind solutions to some of the most debilitating problems of our time.
That's not all! It will also help address the child care crisis that has driven so many moms out of the workforce. It will provide some of the support family caregivers urgently need. And it will take steps toward ensuring that early educators, long-term care and domestic workers – who are mostly women of color and immigrant women doing vitally important work – are paid the fair, family-sustaining wages and benefits they deserve and that allow them to stay in this field.
All told, this Executive Order [2] is a major and significant step forward, and now America's moms, families and businesses call on Congress to follow the Biden Administration's lead by immediately: passing comprehensive paid family and medical leave that covers all working people; making serious investments in comprehensive, high-quality, affordable child and aging/disability care; rooting out wage discrimination of all kinds; ensuring all care workers have a pathway to citizenship; and raising the minimum wage.
*Sign on now to thank President Biden for his Executive Order and to urge your members of Congress to immediately take action to strengthen our care infrastructure too!