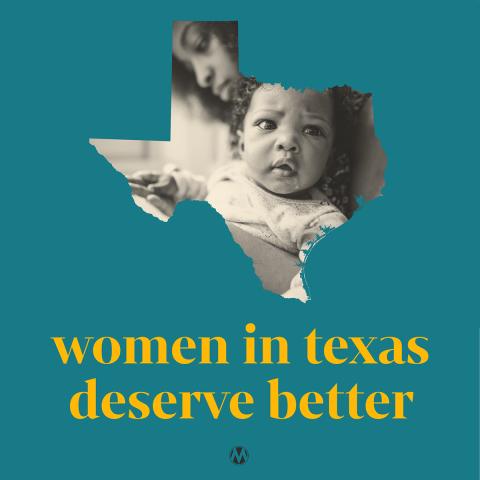 Texas leaders: We need the maternal mortality data.
October 12, 2022
Texas is home to powerhouse women! From Barbara Jordan, the first Black woman to be elected to the Texas State Senate and represent Texas in the U.S. House of Representatives, to a pioneer in the labor rights movement, Emma Tenayuca, who organized two international ladies' garment workers unions and peaceful protests against the police beatings of Mexican migrant workers. Countless women, mothers, activists, lawmakers, musicians (Selena, Beyonce, Janis Joplin – just to name a few!), homemakers, scientists, and artists have, without a doubt, played a pivotal role in advocating for women's rights and shaping Texas into what it is today! 
I love our great state and appreciate the women that continue to pave the way for democracy. However, Texas still has a long way to go when it comes to protecting reproductive rights and providing adequate reproductive health care. Birthing people in Texas need and deserve more. 
We're calling on the Texas Department of State Health Services to release critical data about pregnancy-related deaths and maternal morbidity immediately because Texans deserve to have updated information about the politicians they will choose to lead Texas. *Click here and add your name to our petition*
The Lone Star state has historically had amongst the highest maternal mortality rate in the U.S. but its latest data on maternal deaths is being delayed this year.[1,2] The state's maternal mortality committee was recently directed to delay the maternal mortality report by Dr. John Hellerstedt, commissioner of the Texas Department of State Health Services.[3] The delay, while downright dangerous for the birthing people of Texas, is unsurprising. That's because Texas, unlike any other state, has to take an extra step of redacting all maternal mortality records before they are reviewed by those collecting the data—making data review even more difficult and time-consuming.[4]
It's important to note that right now, Texas is one of the most dangerous places in the U.S. for women, especially Black women, to give birth, in a nation whose maternal death rate is many times higher than all other industrialized countries.[5,6] Unsurprisingly, Black mothers in Texas are most affected by this crisis, dying in childbirth at twice the rate as white moms.[7]
To further compound the crisis, Texas now has effectively banned virtually all abortions.[8] These issues are, unfortunately, interconnected. Data analyses have shown that states with the strictest abortion bans have the worst maternal and infant outcomes.[9] A delay in data reporting on maternal mortality allows politicians to turn away from addressing these issues.
Women in Texas deserve better! Click here and add your name to our petition calling on the Texas Department of State Health Services to release this critical data.
The last data available on maternal deaths in Texas is from 2015 and was released before the 2021 legislative session.[10] Texans should have updated information about pregnancy-related deaths and maternal morbidity, especially before deciding which politicians they will choose to lead Texas. 
The CDC recently released a report, with data from nationwide Maternal Mortality Review Committees, which shows that 4 out of 5, that's 80%, maternal deaths are preventable.[11] It is urgent that we hold our leaders accountable to ending this crisis. 
Sign onto our letter urging the release of the latest report on maternal deaths in Texas before November 3rd.
Together we can, and must, do better for moms, babies, families and our communities.
- Diarra, Gina, Tina, Monifa, and the whole MomsRising.org & MamásConPoder Team
P.S. Did you recently give birth? Please share your postpartum experience with us?
References: