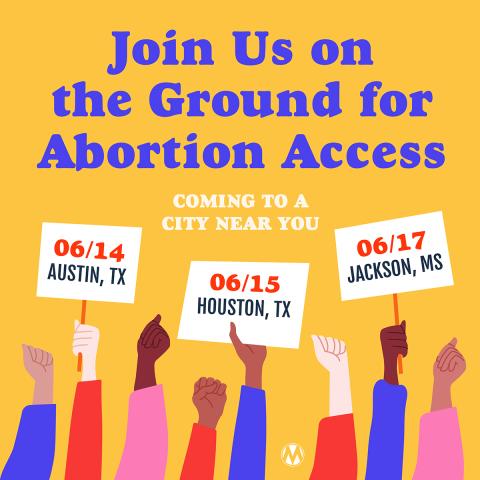 Texas and Mississippi, get ready! We're coming to rally for Reproductive Justice.
Are you ready to rally for reproductive justice? We're officially coming to a city near you next week! MomsRising will join the Liberate Abortion campaign, led by SHEro and Mississippi in Action, and rally side by side for our reproductive rights. 
Here's the scoop: Over 150 organizations are organizing across the fifth circuit (Texas, Louisiana, and Mississippi) and making stops in Austin + Houston, Texas and Jackson, Mississippi to talk about why we need available, affordable, accessible, and stigma-free reproductive care. 
Our efforts, YOUR willingness to fight back could not come at a more important time! This moment comes after decades of advocacy of Black women, queer activists, and feminist reproductive rights leaders who have paved the way and brought us here. We must acknowledge not only their activism but their bravery and courage. They risked their own lives to protect the honor of today's justice and we will continue their legacy.
The SCOTUS final decision on the Dobbs v Jackson case will be decided at the end of the month. ​​ If the SCOTUS leak reflects the final decision overturning Roe, nearly half of the states in the United States would likely take immediate action to ban abortion entirely. We must fight back. We must persist.  Join us!
RSVP below for updates and details about the rally: 
Texas, Louisiana, and Mississippi: We have suffered enough. Six in ten women who have abortions are already mothers, with studies showing many are choosing not to have another child to protect the well-being of their existing family. Moms want abortion care to be accessible to all who need it. [1] The need for affordable and accessible reproductive health care for young women and mothers, Black women, trans people, immigrant women, and other communities of color that are marginalized and whose reproductive health care needs are too often ignored.  Enough. 
I and the rest of the MomsRising staff hope to see you there! 
In Solidarity,
Diarra and the whole MomsRising.org/MamásConPoder Team
P. S. We can do this. We can win. Support the next phases of our fight through a donation. Click here to make a contribution towards MomsRising's movement for reproductive justice! Your gift will help resource our movement towards reproductive justice and ensuring accessible, affordable abortion care for generations to come. 
P.P.S. Use the M+A Hotline if you or someone you love needs a confidential, private and secure phone and text hotline for self-managed miscarriage or abortion. If you or someone you love have questions about self-managed abortion and the law, the Repro Legal Helpline is a free, confidential source for legal advice and information on self-managed abortion. Visit ReproLegalHelpline.org or call 844-868-2812.
References: