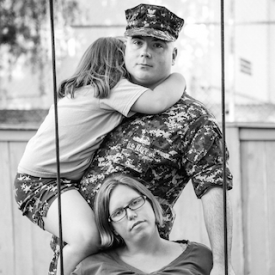 Testifying before Congress on hunger in #milfams - Military Monday
We have big news from MAZON! MAZON been called to testify before Congress as an expert witness on the too-often ignored topic of hunger among military and veteran families. 
Who: Abby J. Leibman, MAZON President & CEO; and Erika Tebbens, a former military spouse who struggled with food insecurity
When: TOMORROW! January 12th at 10AM EST
Watch: Live stream available from the House Agriculture Nutrition Subcommittee or follow us on facebook or twitter for live updates! 
We hope you tune-in tomorrow and help us spread the word on social media! 
Learn More: For several years, MAZON has been leading the national effort to address food insecurity among military and veteran families. We pursued this often-ignored issue because we feel strongly that those who make significant sacrifices for our country should never struggle to put food on the table. Our goal is to remove the barriers that prevent military and veteran families from accessing vital food assistance programs. Learn more about MAZON's Military work.