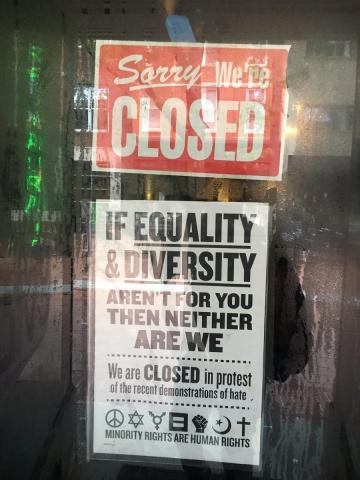 Ten Tips for Teaching and Talking to Kids About Race
To say that this school year feels a little different than last year is a total understatement. Think pink elephant in your kids' kindergarten class — different.
Yes, we did the usual shopping trips to pick up supplies, getting back into school days bedtime routines and rituals all while mourning the passing of yet another summer. This past year we saw an increase in the number of hate crimes for a second consecutive year, and as was the case in 2015, the largest share of victims, nearly 6 in 10, were targeted because of bias against the victim's race or ethnicity. A survey released this week by the American Psychological Association found that 59 percent of Americans consider this the lowest point in U.S. history — even those who lived through World War II and the Vietnam War, the Cuban Missile Crisis and the September 11 attacks.
President Trump's violent and aggressive rhetoric on everything from healthcare, to immigration to women's rights, has only made things worse. The vitriol is palpable. So yah, this year definitely feels different
Still, that is why it is more important than ever to have intentional conversations with our children about what they are bearing witness to.
Our kids pay attention - and they are not the blank canvases that we like to pretend they are. My own son, who just turned nine, has made many references to abandoning the American ship for greener pastures in Canada. During a recent playdate, I heard him tell a friend, who refused to listen to another friend, that he was "pulling a Trump." Yes, this happened. Did I mention that my son was only nine?!
While I welcome the opportunity to mold and shape my kids' tolerance, compassion, and emotional intelligence in these tough conversations, it does not make having them any easier. Sometimes I am at a loss for the G rated script that won't scare my kids:
How do I emphasize that people are not "illegal" and that our own family, both his grandparents, migrated here from other countries, bringing rich experiences with them that have contributed to this country over generations?
How do I broaden his understanding of gender in a way that builds tolerance and understanding for all the beautiful ways that people exist in the world?
How do I explain the need for him to courageously stand up for his classmates who he may see being bullied or belittled by others without fearing the consequences?
I wish there was a list of instructions on how to talk to him about the police, and what it means to be black in a world that does not embrace the beauty in blackness. But there is no how-to guide.
Don't get me wrong: there is a ton of information about race. Plenty of folks, researchers, academics and the like have written extensively about how science shows that children understand race and difference as early as infancy, and how racism is learned and children are not born biased. I get that, but the information, as overwhelming as it can be, does not always translate in a way that helps me talk to my son about it.
The point is that no matter how challenging, we ALL need to have these conversations with our children. It is not easy—but easy was never part of what we have signed up for (and we all know that by now). Some parents struggle to avoid the public slip of an offensive comment their child might make, or the shaping of problematic views that build walls as barriers to friendship, connection and community rather than breaking down those walls to endless possibility.
Some of us are struggling to prepare our children to handle those slips and problematic views that can cause real pain, trauma and harm. The struggle is real, and if there is anything that just trying has taught me, it is that it is a practice, and like anything else, practicing regularly makes a world of difference.
So, here goes. Here are ten tips to get you started:
Easier said than done? Isn't it always. These tips are designed to help parents of all backgrounds to talk to their children about race as early on and as often as possible.
These times we are living in and raising our children in are plagued with racial tension, and insensitivity that permeate everything from politics to play groups. Take 'em all, or take some and make them your own. Either way I hope these tips provide ways to incorporate age appropriate activities that support your family in building tolerance, racial literacy, and compassion. If we all keep having this conversation with our children, we might just be able to build a world where our kids and families can thrive together.
*These tips were created as a collaboration between MomsRising.org and EmbraceRace