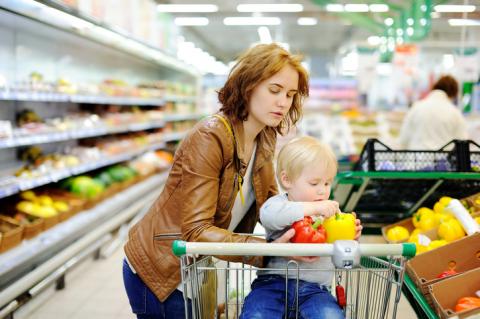 Tell your U.S. Representative: Hands off SNAP!
We are sounding the alarms. Now is the moment where we need you to speak out to protect the health and nutrition of children, moms, and low-income families!
Moms, dads, and concerned voters have been speaking out by the thousands because we know how vital nutrition programs like SNAP (food stamps) are to struggling families. It's time to turn up the volume. The U.S. House of Representatives is set to vote on a harmful, terrible, and unnecessary Farm Bill next week, which would put at risk the nutrition assistance of millions of people.
We need you to speak out now! And we need you to show up…literally!
***Can you print out a letter and drop it off at your member of Congress' local office by Friday, May 11th? (It's easy. Sign up here and we'll send you everything you'll need, including information about how to find your local office.) 
Here's what's going on and why we need YOU to take action NOW!:
Earlier this month, Republicans in the U.S. House of Representatives' Agriculture Committee voted to make sweeping changes to SNAP (the Supplemental Nutrition Assistance Program or food stamps). Overall, the U.S. House Republican proposal would cut billions of dollars from SNAP and result in 1 million low-income households, many with children, having less food. 
The bill also hurts our economy: Economic analysis shows that there is a high return on investment, in fact, for SNAP because people immediately spend those funds on food in ways that also immediately fuel our consumer-driven economy. So the bill is bad for families and for the economy.
What does the House GOP Farm Bill do? This unworkable, harmful, unnecessary, and woefully-underfunded bill takes SNAP benefits away from people 18-59 years old who aren't currently employed or participating in training for 20 hours a week. (There are exemptions for parents of children under 6 years old and parents caring for an "incapacitated" child—but that is it!). 
Rather than helping anyone keep a job or find a job, this proposal is designed to create a massive red tape that will make it harder for millions of people to put food on the table, including parents raising kids, low-wage workers, and people temporarily between jobs. This red tape is designed to produce massive cuts in SNAP funding in order to pay for the giant tax cuts for billionaires and big corporations that were passed in December.
The full U.S. House of Representatives is set to vote on this bill next week and your Representative is super important in our fight to kill this bill!
We need you to raise your voice in your district! We have a short letter and stories from moms around the country on how changes to SNAP will hurt their family for you to drop off. The whole thing is only 2 pages and we'll make it easy for you to print it out and deliver. We are hoping that you can bring it to your local U.S. Representative's office and let him/her know that you are paying attention to what Congress is doing, you know how harmful changes to SNAP will be to your family and families in your community, and you want your member of Congress to, "Vote no!"
***Sign up NOW to drop off a letter and stories to your U.S. Representatives' district office and help put a stop to harmful cuts to SNAP! (Once you sign up we'll send you an email with the small amount of material you'll need, including information about how to find your local office.) 
We know that SNAP is a major lifeline to millions of families around the country. SNAP helps 1 in 8 Americans across the country afford groceries, including the 1 in 4 children who live in food-insecure households.  SNAP lifts up families in communities across the U.S. 36% of SNAP recipients are white, 25% are black, 17% are Hispanic, and 3% are Asian.  Families using SNAP live in every district in the United States, so our elected leaders have no excuse to not speak up for their very own constituents.
And perhaps most important is the fact that most SNAP recipients work!
The entire premise of these new restrictions— that somehow people who use SNAP are lazy — is dead wrong.
Fact: Most adults on SNAP work. More than half of SNAP households with at least one working-age, non-disabled adult work while receiving SNAP — and more than 80 percent work in the year before or after receiving SNAP. Among those who are not working, most report illness or disability, caregiving responsibilities, being recently divorced or escaping an abusive relationship, or going to school as a reason for not working.
In other words, these proposed cuts are a direct attack on women, who do the lion's share of caregiving for children, elderly and family members with disabilities.
The good news is we have a very good chance of beating back this bill. Since the GOP leadership has rejected negotiating with the Democrats it is unclear if they have the votes to pass this bill through the House. Your member of Congress is SUPER important in this effort—we believe they are moveable, as long as they hear from their constituents about how terrible the SNAP proposal is.
See why we need you to literally show up at your local members of Congress's office and deliver a letter and stories?
This is a high-impact action you can take on your own time near your house (although ideally before Wednesday, May 9th evening). Bring your kids along. Bring some friends. If you want to organize a larger group to go, that is great as well! We would LOVE for you to take a picture when you deliver your letter and send it to us and post it on social media using #HandsOffSNAP.
***Remember to sign up NOW to deliver a letter and stories to your Representative's office to speak out against changes and cuts to SNAP that hurt our families and our economy! 
This is something anyone around the country can do, so once you sign up to deliver a SNAP letter to your local members of Congress, send this email to your friends and family and post the action link to Facebook so others can participate as well.
Thank you so much for standing up (and showing up!) for the health and nutrition of our families!
Are you currently or have you ever used SNAP? How would an employment requirement affect you and your family? MomsRising wants to hear from you…your experiences with these programs matter! Share your story with us here.