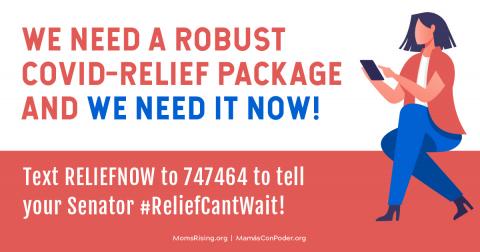 Tell Your Senators: #ReliefCantWait
We'll get straight to the point: We're about to go off a COVID cliff.  And we need your help.  In just three weeks, unless Congress acts, many of the pandemic relief policies that have been lifelines for our families (like expanded unemployment benefits, emergency paid family leave and earned sick days, and eviction protections) will all expire on December 31st. [1] 
This is happening as COVID cases are soaring and as we learn that nearly twenty six million adults reported they didn't have enough food to eat in the past week, including more than one in six adults with children. [2]
→ NOW is the time for Congress to take action and we need YOU to help turn up the volume on what our families are going through and the type of COVID relief we need!
***Make a high-impact phone call to your U.S. Senators NOW! Text RELIEFNOW to 747464 or call 1-888-754-9091 and we will connect you directly to your U.S. Senator's office. (If you call back a second time, we'll connect you with your other U.S. Senator's office).
Congress has no time to waste. Our families, like Ceanna's are hurting: 
"I am a Mom of two kids, ages 5 and 8. I lost my job in April and have been on unemployment ever since. My husband works in health care, luckily, but even he was laid off when the pandemic started. The only way we survived was from the stimulus money and extra unemployment funds. He now has taken 2 full time jobs to support us and works 6 days a week, 12 hour days. I would be looking for work but since our children need to do school from home now, we really don't have that option. I would love to rely on our families, but our parents are all in their 70's and with my husband working in health care it just isn't safe to expose them. This pandemic has affected every aspect of our lives." 
***Make a high-impact phone call to your U.S. Senators NOW! Text RELIEFNOW to 747464 or call 1-888-754-9091 and we will connect you directly to your Senator's office. (If you call back a second time, we'll connect you with your other Senator's office).
Calling your U.S. Senator now is super important because negotiations have started on an end-of-the year COVID-relief package. [3] Our families have been waiting months for more funding for programs that will support our families, hospitals, and economy during this pandemic. Programs like expanded unemployment benefits, extensions on emergency paid leave and earned sick days, protections against evictions, funding for healthcare programs and childcare and K-12 education, and expansions of the EITC and Child Tax Credit and another round of stimulus checks are needed to provide much needed cash to struggling families and local businesses.
While we have needed this package for months, the crisis point we are facing right now is extreme. Unless Congress takes action within the next few weeks, 12 million people will be immediately kicked off of unemployment insurance [4] and 19 million renters will lose their homes. [5] This is all at the same time that 1 in 4 children are living in hunger because of the impacts of COVID and cases of the virus are soaring in every single state—and only expected to go up as we head into the holidays and colder months. [6,7]
Inaction is not an option! Our families and economy are hurting and we need our leaders in Congress to know that we expect them to take action NOW!
Even if you think your U.S. Senator supports COVID relief, we need all of Congress talking about how much they are hearing from their constituents about how urgent this is.  Making calls to your Senator's office is a high-impact way to make your voice heard. MomsRising is joining with dozens of other organizations around the country for a #ReliefCantWait National Call-In Day, so today is a great day to make sure the phones are ringing off the hook on Capitol Hill.
***Take a minute to call your U.S. Senators and let them know that #ReliefCantWait! Text RELIEFNOW to 747464 and we'll connect you directly to your Senator's office.
When we connect you with your U.S. Senator's office, tell them "Pass a COVID-relief package that protects all families and extends paid leave, unemployment benefits, eviction protections and funding for childcare and healthcare." If you have a personal story about how COVID is impacting you and your family, we encourage you to share it with your Senator.
After you make your calls, you can help lift up our message by sending this email to your friends and also reposting it on social media. We are using #ReliefCantWait and you can also RT us on Twitter and repost on Facebook and Instagram.
Thank you for continuing to speak up for our families during this tough time.
P.S. Can you also take a second to sign our petition to Congress calling on them to pass a robust, comprehensive COVID-relief package immediately?
P.P.S. Are you one of the people that will lose emergency paid leave or unemployment benefits at the end of the year? Are you struggling with child care and/or virtual learning during the pandemic? MomsRising wants to hear from you about your COVID experience.
[1] "Here Are All The Coronavirus Relief Programs Expiring At the End of the Year." Forbes, November 17, 2020.
[2] "A growing number of Americans are going hungry." Washington Post, November 25, 2020.
[3] "Stimulus package update: Despite 3 new proposals, negotiations are off to a rocky start." CNET, December 1, 2020.
[4] "12 Million Workers Facing Jobless Benefit Cliff on December 26." The Century Foundation, November 18, 2020.
[5] "Nearly 19 million Americans could lose their homes when eviction limits expire Dec. 31." CBS News, November 27, 2020.
[6] "One in Six Americans Could Go Hungry In 2020 as pandemic persists." National Geographic, November 24, 2020.  
[7] "U.S. reported more COVID-19 cases in November than most countries had all year." CBS News, November 30, 2020.