Take Action!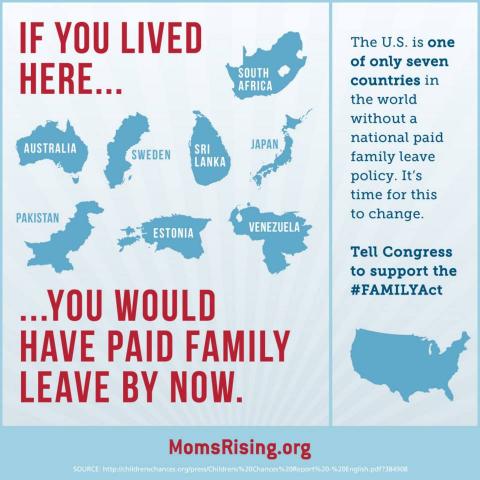 Tell your Senator to co-sponsor the FAMILY Act!
Did you know that only 12% of Americans have access to paid family (maternity/paternity) leave in the United States? And that having a baby is a leading cause of poverty spells in this country? 
Do you find that appalling? Me too.
That's why we were thrilled when the FAMILY Act (a paid family leave insurance program) was introduced in Congress last year.  
MOMentum for paid leave is growing, but we need our U.S. Senators to kick it up a notch to get this bill really moving: Only five U.S. Senators are signed on to co-sponsor the bill so far. So if you're getting this email, then at least one of your U.S. Senators hasn't signed on to the bill yet.
This means one thing: Your voice is needed to amp up the pressure for co-sponsors. In fact, there's no better way to jump start U.S. Senators than hearing from people like you!
*Tell your U.S. Senators to co-sponsor the FAMILY Act now! 
Co-sponsorship of bills matters. It matters because the more co-sponsors a bill has, the more seriously the bill is taken and the better chance it has of moving forward to full passage.  And we need full passage of the FAMILY Act yesterday. Over 177 countries already have some form of paid leave for new moms, but the U.S. isn't one of them yet. It's past time to catch our public policies up with our modern labor force!
We need to make sure that our U.S. Senators know we're watching, listening, paying attention, and most importantly that we expect more than just talk when it comes to the need for paid family leave. We want action too.
Make no mistake: The time to take action is now. Last month, The White House Summit on Working Families echoed an ever-growing chorus of families demanding paid family leave (maternity/paternity leave). And this month, three states are celebrating implementation anniversaries of paid leave policies and the headlines make one thing clear: State paid family leave programs are a huge success—for moms, families, businesses, and economies. 
Let's remind our U.S. Senators of this.
We're moms. We know nudging. Send a nudge to your U.S. Senators now and tell them to sign on to the FAMILY Act.
You may be wondering "What about the FMLA (Family and Medical Leave Act)? Isn't that paid leave?"
Here's the deal: The current Family Medical Leave Act (FMLA) allows some employees to take up to 12 weeks of job-protected—but unpaid—leave. However, FMLA only covers about 60 percent of employees. Further, many people who are eligible to take FMLA can't afford to take it because it's unpaid.
People like MomsRising member Holly who shared:
"When I had my first child I had to return to work within 3 weeks. I was teaching High School science... I only had 2 weeks of paid vacation so I used all of it. I only had a third week off because my daughter's birth came at spring break." 
Or Jorddan, another MomsRising member, who wrote:
"After the birth of my third child, I utilized my accumulated vacation to stay at home for ten days. After that time ran out, I had to return to work or we wouldn't have been able to pay the basic necessities of utilities, water, rent, food, gas, etc." - Jorddan
The lack of paid family leave (maternity/paternity leave) is a big problem, but there is a solution: The FAMILY Act.  
The FAMILY (Family and Medical Insurance Leave) Act is an insurance program that would provide workers—including those who are self-employed and/or work part time—with much-needed income while they, or a family member, deal with the arrival of a new baby or a serious health issue. Eligible employees could take up to 60 workdays (12 weeks) away from their job with partial wage replacement (up to 66% of their typical wages) to take care of themselves or a family member in a one-year period. The new, self-sustaining fund would be created through very small, shared costs to employees and employers. Employees and employers would contribute two cents for every $10 in wages. Self-employed and part-time employees would earn paid family and medical leave as well.
Under the FAMILY Act, employees could take paid leave provided under this new law for the same reasons that they can take FMLA leave today—for the birth of a child, their own serious health issue, including pregnancy, to deal with the serious health issue of a parent, spouse, domestic partner or child. In addition, the program would allow people to care for a new child and/or be used for particular military caregiving and leave purposes.
Whether it's to care for a newborn you swear already smiles, a mom who is ill, or a spouse battling cancer, being there for family is what matters. You shouldn't have to give up a paycheck to do it.
It's time for paid family leave. And it's time for our U.S. Senators to sign on to co-sponsor the bill. Send them a message now! 
Together we're a powerful force for women and families!
P.S. To see a list of co-sponsors of the FAMILY Act click here.
P.P.S. To share why access to paid family leave is important to you, click here.