Take Action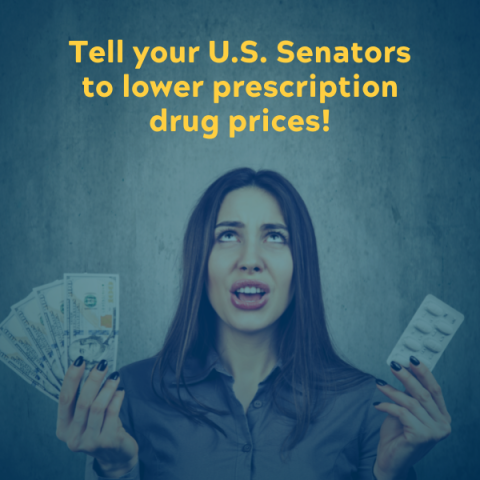 Tell the U.S. Senate, it's time to lower drug prices!
"Before I had Medicaid, I went into a coma about once a month because I am on insulin. I have many complications as a result of going years without healthcare. Now I never go into comas. Insulin has gone up so much that if not for insurance, I would not be able to buy it. It's unethical to force people to suffer and die because they are not rich!"

– Lisa, MomsRising member
Sign now: Tell your U.S. Senators to lower prescription drug prices!
No matter our race, place, or politics, most of us want similar things: to make a good living, to care for our families, and to have the best chance possible to be healthy. But for far too many people, having affordable access to life-sustaining and life-saving medications is a struggle. We've received hundreds of messages, like Lisa's, from parents and caregivers across the country about the need to rein in the high and rising costs of prescription drugs. It doesn't have to be this way.
Right now, many of us are struggling to make ends meet while some politicians debate whether putting limits on the amount big pharma corporations can raise prices on prescription drugs is "good politics." We cannot afford for our lives and livelihoods to be used as a political football. It is past time for Congress to act to rein in high drug prices!
Quick signature: It is past time for the U.S. Senate to take action to lower prescription drug prices! 
What's happening? The U.S. House has already passed the Build Back Better bill that has provisions in it that would allow Medicare to negotiate drug prices, cap insulin costs at $35 per month, and cap seniors' out-of-pocket drug spending at $2,000 per year. This would truly be life-changing for millions of Americans who struggle to afford their medicines each month, but this legislation has now stalled in the Senate. It's up to us to demand that the U.S. Senate pass a reconciliation bill that includes measures that will lower drug prices.
Add your name to our petition that reads:
Dear U.S. Senators:

An overwhelming majority of Americans agree that prescription drug prices are too high and that Congress needs to act to stop the skyrocketing costs of life-sustaining and life-saving medications. There is also strong bipartisan support for giving Medicare the power to negotiate drug prices to bring down costs for everyone.

Americans pay 2 to 3 times more for prescription medications than any other country in the world, and 1 in 4 Americans who have prescriptions struggle to afford their medications. In January of this year alone, 810 medications increased in list price by an average of 5.1%, all while drug companies rake in record profits. This price-gouging has got to stop—for the sake of our health and our wallets!

Please, vote NOW to pass a reconciliation bill that includes provisions to lower the high and rising prices of prescription drugs.
Don't forget to sign on! Tell your U.S. Senators that price gouging by pharmaceutical corporations has got to stop!