Take Action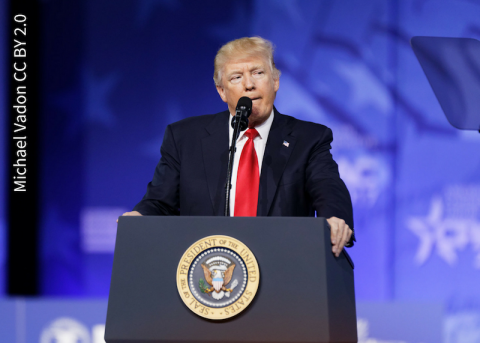 Tell the Trump Administration: Stop sabotaging our health care system!
President Trump is playing political football with gun safety policy, with health care, and with our lives. The Trump Administration is up to it again with their underhanded, secret, back-door tactics—and I'm not talking about Russia! Recently, President Trump bragged at the Conservative Political Action Conference (CPAC) that the Affordable Care Act is being
"wiped out" in a "piece-by-piece" way
despite the failure of the GOP Congress to repeal the law.
President Trump has been subverting the democratic process and working to reverse the progress and gains we've made on health care coverage in recent years every chance he gets. In fact, the number of uninsured Americans rose by about 3.2 million people last year due to actions taken by the Trump Administration with, of course, a pronounced impact on younger adults, Blacks and Hispanic people, as well as low-income people.
It's outrageous. Most recently, the administration
proposed a rule
to expand the sale of short-term health plans; the result of this health care sabotage will severely impact on families. A new independent analysis showed that the Administration's proposals would lead to
9 million more people
going uninsured or without minimum essential health coverage.
To make matters worse, the increase in uninsured people would be combined with more than 18% premium increases for people who have plans inclusive of those with pre-existing conditions. These
short-term plans
would also allow insurance companies to charge women and older people more for coverage, leave families without adequate coverage to meet their needs, allow exclusions and denials for pre-existing conditions, allow retroactive cancellations of short-term policies, and put families at great risk of incurring medical debt.
When you click to take action, you can sign onto this very short, but very direct letter to President Trump that says:
Dear President Trump and Administration Officials,

 

The moms and dads of America will not stand for you to undermine the Affordable Care Act and sabotage our health care system.

 

It is not okay to undermine our health care security including protections for people with pre-existing conditions and the requirement that plans offer essential health benefits like maternity coverage, prescription drugs, and mental health care.

 

Stop sabotaging our health care system and playing politics with the health of America's families! We urge you to stop sabotaging health care access for all Americans, creating additional barriers for Americans with pre-existing conditions, taking actions that will raise insurance premiums, and leave more Americans without access to quality affordable health care.

 

Instead, please focus on stabilizing the insurance markets and making health care more accessible and affordable for all of us.
These deliberate attempts to sabotage our health care system will serve to destabilize the insurance market and make health insurance less affordable, less accessible and less comprehensive for the most vulnerable people in our society. As is so often the case, low-income women, families, people with disabilities, the elderly, and those who live in rural and medically underserved communities will suffer the most, with a compounding impact in Black, Latinx, Asian, Native American, and LGBTQ+ communities. President Trump is willing to harm the health of millions of children, parents, and families to score a political victory with far right conservatives. It is disgraceful.